Those who own lakefront properties quickly realize that their homes have two front entrances: one that faces the world and one that faces the water. Rob Williams and Barbara Deane-Williams' lakeside timber frame home on Lake Ontario in Upstate New York not only shows the world two equally prominent faces; it also showcases an eclectic sampler of American architecture.
"Careful planning really pays off," says Seth Charles, project coordinator at Davis Frame Co. in Claremont, New Hampshire, who built and raised the house's frame. "I think Barbara had been planning this house for nearly 40 years."
The Backstory
In 2003, Barbara and Rob, purchased five acres of land on the southern shore of Lake Ontario. They built the lakeside timber frame home by the water they had dreamed of all their married life.
"We spent several years visiting old houses and gathering reclaimed barn flooring, salvaged doors, and authentic-style lighting," says Rob. "Documenting stories about the sources of our materials was part of the adventure of the process."
Rob and Barbara also visited many timber-frame companies and carefully studied hundreds of floor plans. Finally, they met Jeff Davis, president of Davis Frame Co., and chose one of his company's plans as the basis for their dream New York home.
After adding on to and tweaking the original plan, the final set of floor plans featured a contemporary wall of windows on the side of the house that faces the water. The house's true front, however, resembles a home from the early 1900s, with its Greek Revival columns, pilasters, and a cupola. The traditional center hall, flanked by a dining room and a formal living room, conjured up visions of an even older house. The styles differed by design to match Barbara's vision of a house that was once small but had been added on to by successive generations of owners.
Reclaimed Features
The couple used three different types of woods in the framing and finish work to add to the illusion. The kitchen's reclaimed burnt barn posts and beams make it appear to be the oldest part of the house. Slightly less rustic wood salvaged from industrial warehouses and factories was used in the bedrooms and front rooms. Standing dead timber (trees that were killed by insects, fire or weather, and dried out while still upright) that was recently harvested and milled gave the great room and upstairs master bedroom a slightly modern appearance.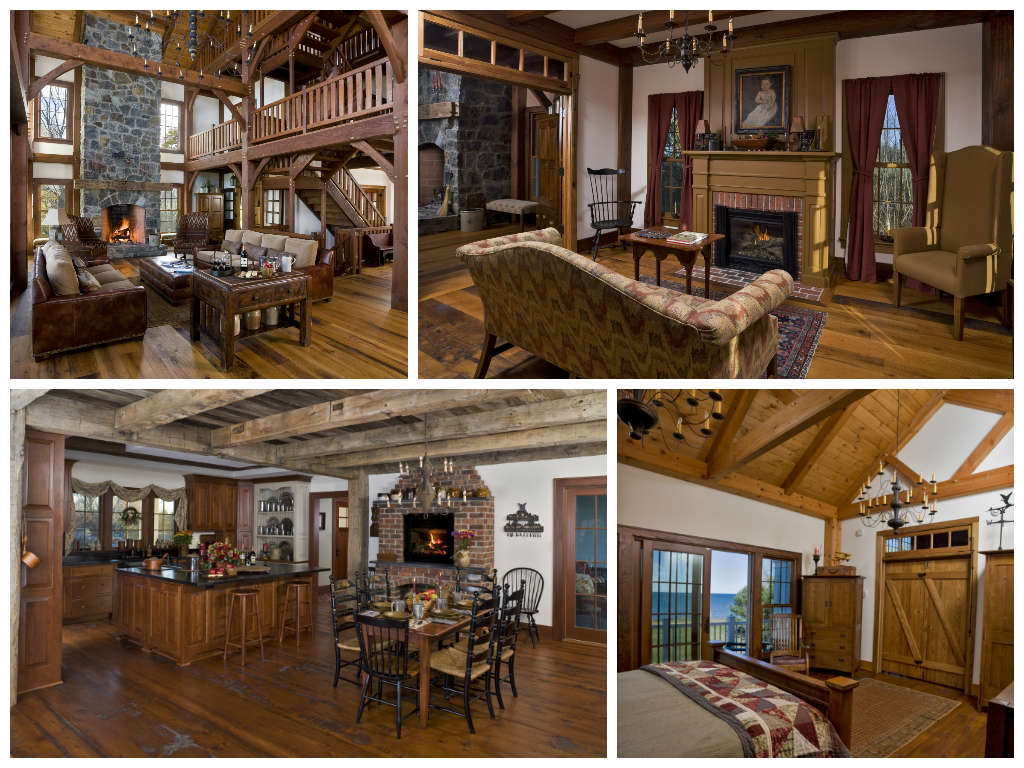 "I was pretty exacting about the flooring and fireplace stones we used," says Barbara. "I knew precisely what I wanted to see when we were sitting at the dining room table. And when we stepped out of bed in the morning. Chip Mongeon, our builder, worked with me to place the pine planks with knots, burned siding and rust-stained stones in the right places."
Barbara furnished the home's interior with the help of Alex and Mike Pifer of The Seraph, a shop in Sturbridge, Massachusetts. The shop specializes in historically accurate home furnishings.
It amazed the couple at how everything came together seamlessly. "We had a fabulous team, but Barbara's vision made it all work," says Rob. "Some people find building a home stressful. We enjoyed the process so much that, before we finished the house, we bought a small property on a seaplane base in Florida."
Barbara, of course, already has big plans for that site as well.
Published by: Timber Home Living Magazine
Story by: Barbara Jacksier