There is nothing like the charm of a timber frame home. Many homeowners incorporate timber frame construction due to the organic charm that it offers. The most popular room in a timber frame home that gets a lot of attention and focus is the great room. Typically, most of our timber frame homes feature an open floor plan, where the great room flows into the dining and kitchen areas. Also, most of the timber frame great rooms feature a soaring ceiling and a wall of windows, really making the great room space extra special.
Check out our trending timber frame great rooms below!
Mountain Modern Great Room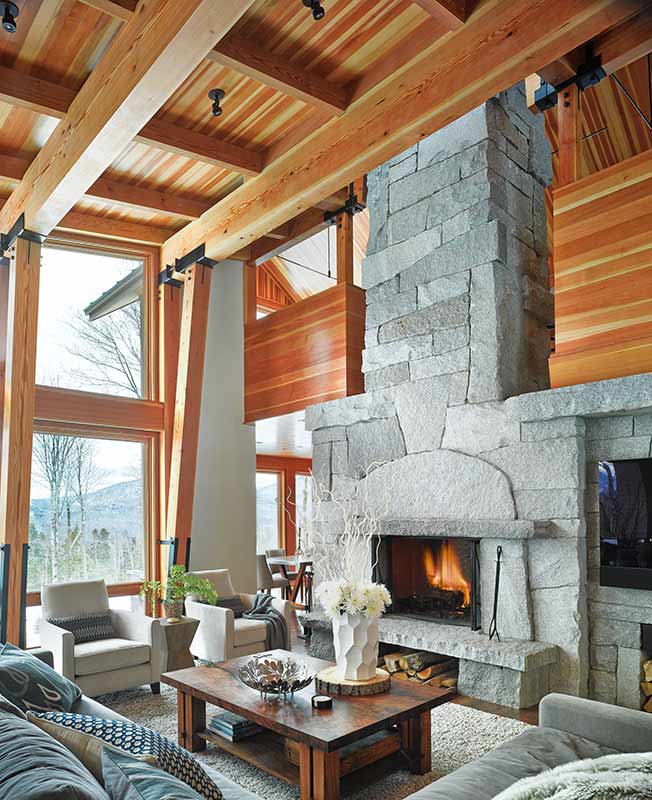 Check out this gorgeous mountain modern ski home in Vermont! This custom timber frame home features a gorgeous Davis Frame Douglas fir timber frame featuring black metal brackets to add to the modern character. In modern timber design, we are seeing more straight lines and straight braces with metal elements included as you see in this great room.
Mountainside Great Room
This beautiful timber frame great room looks out to the beautiful White Mountains of New Hampshire. This timber frame great room has become a favorite with its panoramic wall of windows. The tongue-and-groove wood decking on the ceiling features an off white painted color. Many of our clients are choosing a whitewash or painted color for the ceiling to add a nice modernized contrast to the Douglas fir timbers.
Barn Home Great Room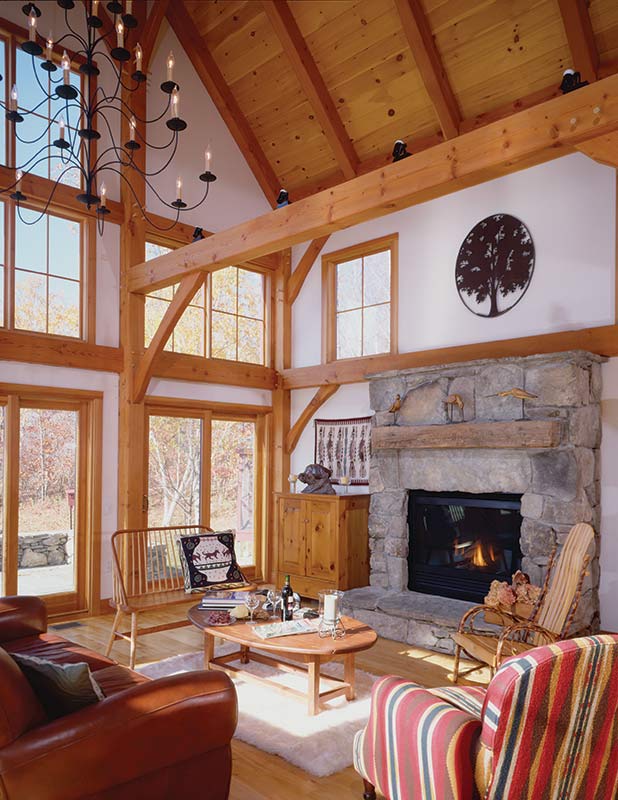 This timber frame barn home great room is a classic look with simple traditional timber framing. When many think of a timber frame home, this look is exactly what they envision. Interested in a similar look? Check out our popular Classic Barn Home floor plan.
Classic Timber Frame Great Room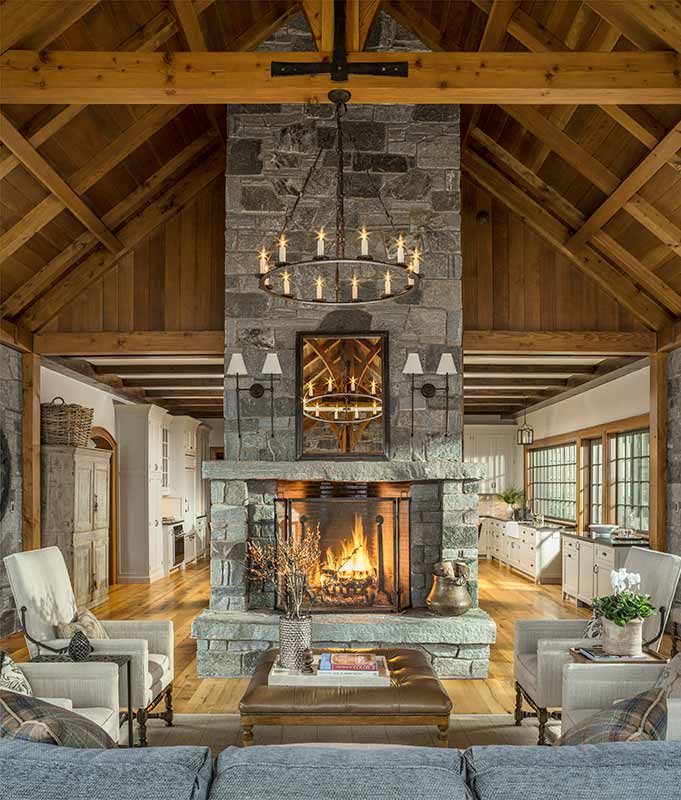 This timber frame great room is breathtaking and features a nice blend of traditional and rustic. The timber frame features an old-world look to it with the rustic stain against the stone fireplace, while the furniture has a nice clean traditional look to it. White cabinets in the kitchen and white accent chairs help to brighten up this space. What a perfect place to entertain family and friends!
Wide Open Timber Frame Great Room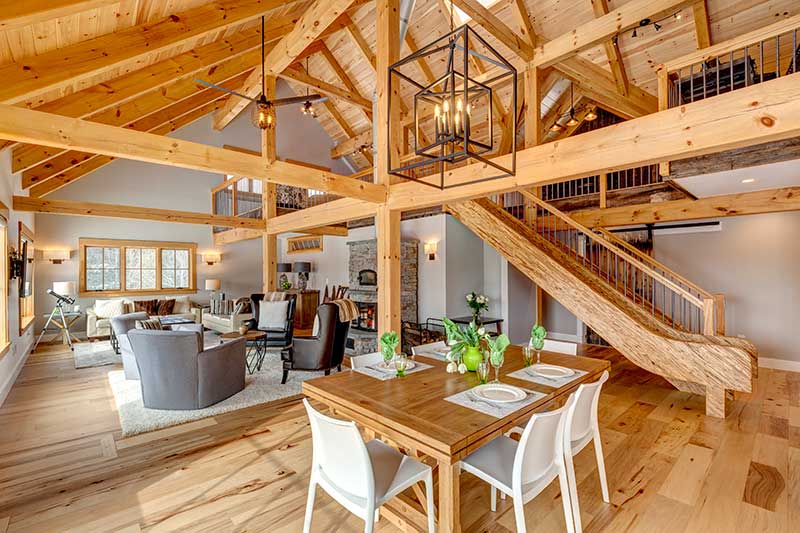 Here is a unique timber frame great room that features a wide open-concept space, perfect for hosting gatherings. The great room space flows into the dining room and kitchen so that the homeowner never feels too far away when entertaining guests. The wood species is Eastern White Pine which offers a nice look for this Vermont barn home. Most of our projects feature Douglas fir, but the pine offers a nice rustic look in this space. One thing that you will notice is that modern furnishings help this space look shabby chic and not too rustic. A bonus part of this space is a slide that the homeowners incorporated. The slide is also just not for kids; the adults enjoy it just as much!
Interested in learning more about our timber frame homes? Call us today at 800.636.0993!