Discover this beautiful Vermont timber frame home located near several lakes and popular ski mountains, making it the ideal weekend retreat for all seasons! This beautiful hybrid timber frame home was built in 2010 in Rutland County, Vermont, located near a few lakes and popular ski mountains, the location was the perfect choice to build a weekend escape where all four seasons can be enjoyed.
This beautiful hybrid timber frame home was built in 2010 in Rutland County, Vermont. But before I take you on a tour, I'd like to give a little backstory on how this project came about. Originally our clients were interested in building a log home and attended a Log and Timber Frame home show in Springfield, Massachusetts. After visiting with a few log home companies, they stopped by our show booth and learned more about timber frame construction. The more they learned, the more they recognized that timber frame was more of what they were envisioning, with just the right amount of wood to achieve the look they desired without being too rustic.
Goodbye log home, hello timber frame! Interestingly, this isn't the first time we've experienced this – it actually happens quite often. People are familiar with log homes and they evoke a rustic charm but often times we work with clients who started out interested in log homes and discovered timber frame construction while doing research. Although both forms of construction have been around for hundreds of years, log homes gained tremendous popularity in the 1970s and 1980s.
Back to the house in question – after the show these couple decided to build a timber frame home rather than a log home, and, upon visiting our website, found our Vermonter timber frame floor plan. To seal the deal on choosing Davis Frame and the Vermonter floor plan, we set up our clients with a visit to the original Vermonter that was built several years prior and they fell in love with the timber frame home design.
During the design phase, we typically like to involve a builder, as it creates a smoother design/build process. Our clients, unfortunately, did not have a builder since they didn't live in the area. They inquired about builders we work with and we introduced them to a long time builder acquaintance of ours, Dutton Construction. They immediately hit it off with Dave and chose him to build their new home (fun fact – they are still friends to this day!).
Ok, now onto the fun stuff, the details on the floor plan! See below for the plans and photos of this gorgeous home.
The Vermonter Floor Plan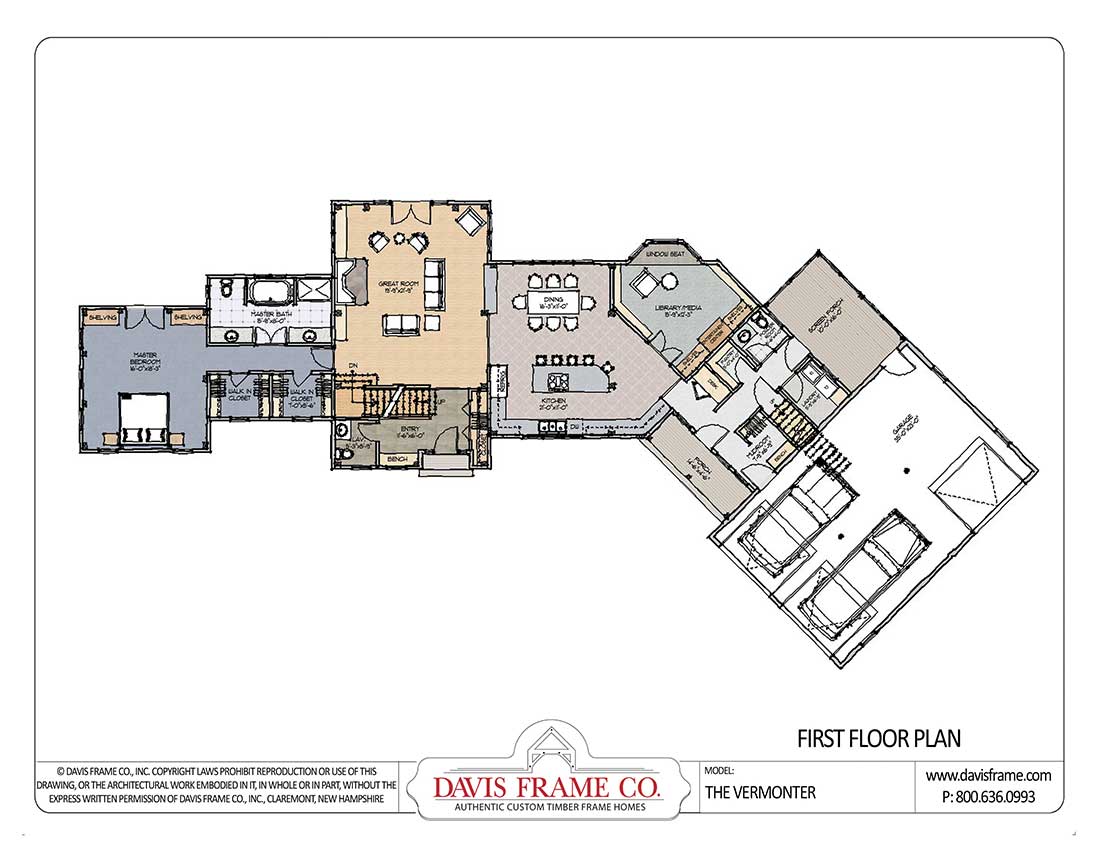 This timber frame home design features hybrid construction with the great room and master bedroom wing using timber frame construction and the kitchen, dining, and mudroom area using conventional construction. Hybrid timber frame homes incorporate traditional constructed rooms in parts of the house but adding unique timber frame features in other parts of the home. Hybrid construction is popular for those looking to cut down on costs, as well as break up the exposed wood. Highlighting a specific area with timber frame is also a great way to make a space pop!
There are two entrances to the home that are central to the house design – one being through the mudroom and one through the foyer. Of course it's always a wonderful idea to have an entrance into a mudroom when building in Vermont, since mud and snow season are integral to life in the mountains. This mudroom is more than a place for boots and coats, too – it also houses the laundry room and a half bath. To the left of the mudroom area is the spacious kitchen and dining area. Off of the kitchen and dining area is another space that was originally used as a library, however, our clients turned this space into a formal dining room, perfect for gathering with family during the holidays.

A view of the mudroom, kitchen, and dining room, all built with conventional construction.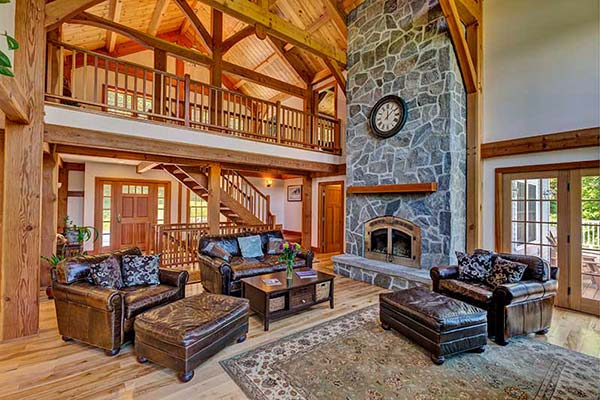 The beautiful timber framing is featured in the expansive great room, featuring beautiful King Post trusses. When you walk into this space, it pops with its soaring ceiling and exposed timbers.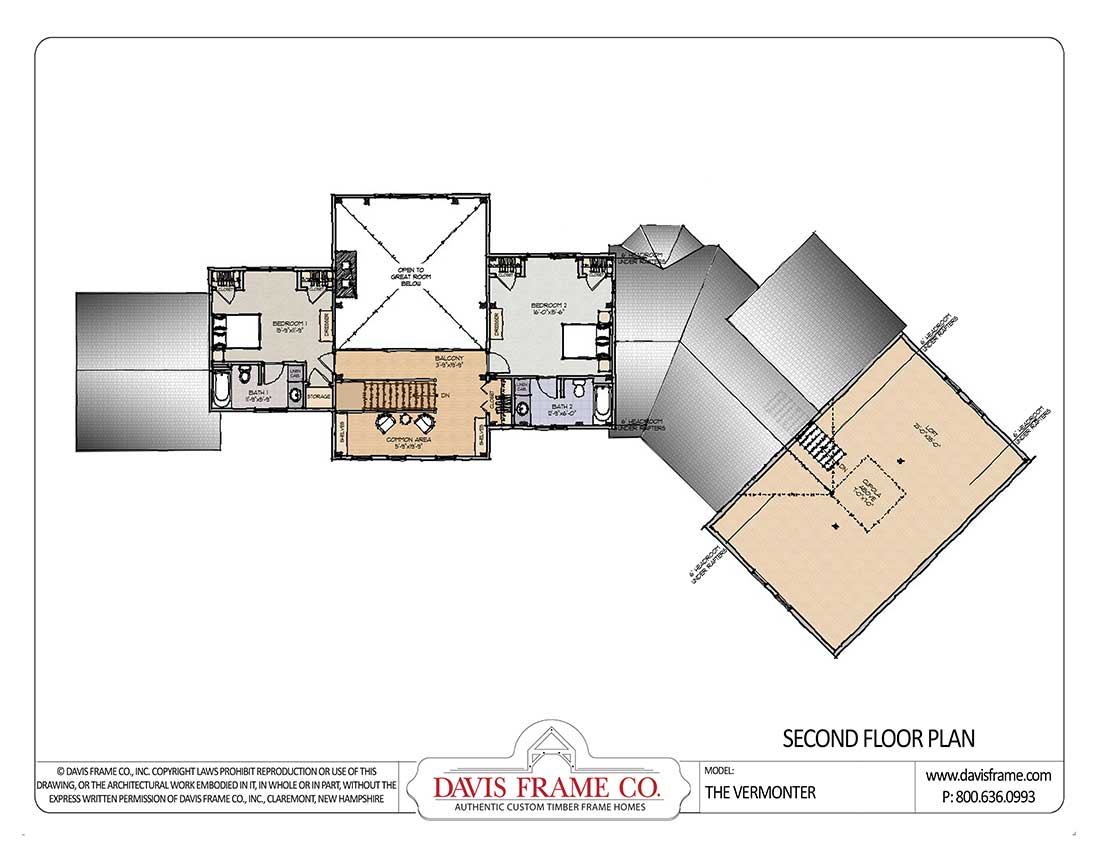 The second floor features a nice loft with a seating area, perfect for enjoying the beauty of the timbers from above. Two guest suites are on the second floor, each with their own bathroom.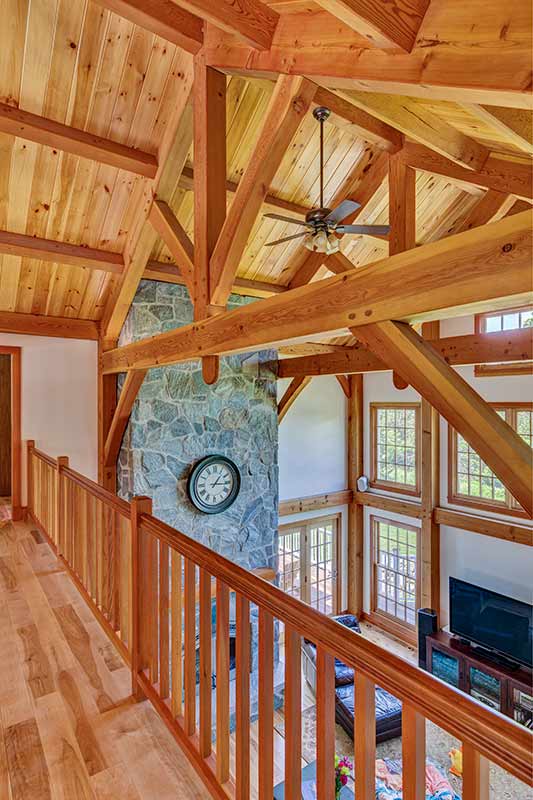 The home also features an attached garage with a bonus living space above. The garage bonus space is accessible from the first-floor mudroom, keeping it a nice private space for guests.

The amazing pool and timber frame pool house! Meet Freckles (middle picture), she was a great sport about getting her photo taken!
After a few years and the realization that Vermont isn't just about mud and snow, our clients decided a pool would be a perfect addition for enjoying warm summer days. And since they had enough land, they chose to locate the pool and a custom timber frame pool house 300 feet away from the home, with the pool house equipped with a nice sitting area, minibar, and bathroom.
Our clients love their Vermont hybrid timber frame home so much that they made it their permanent residence shortly after construction was complete. And, with a spacious floor plan, a finished basement designed for entertaining, an in-ground pool and pool house, this is the perfect quarantine home for the year 2020.
Interested in learning more about our Vermonter timber frame plan? Be sure to check out the Vermonter timber frame gallery for more amazing photos. Call us today at 800-636-0993!