Are you interested in building a wooden home? While most structures today are built using wood, we are specifically referring to homes with natural wood finishes, such as log and timber frame homes. Most people know a log home when they see it, mostly due to their popularity in movies and television featuring rustic themes. While timber frame home construction may not be as familiar, it is a great alternative to a log home. Once you read through this blog post, you will hopefully gain a better understanding of the key differences between the two wood home styles. Both log and timber frame homes make up a small portion of the new homes built today, but both offer undeniable charm and warmth given their unique character and exposed wood.
Log Home Construction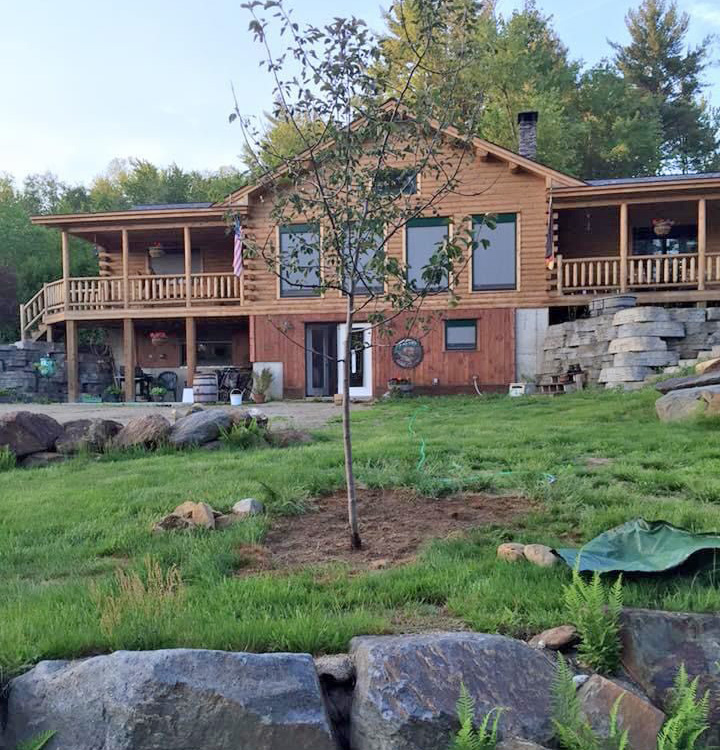 Example of a log home.
The log home originated in Scandinavia and Eastern Europe. Log homes have become part of American history, with homes dating back to the 1600s. The wood home concept was brought over by immigrants from Finland and Sweden. During your history lessons over the years, you very well could have also learned about Abe Lincoln's log cabin, perhaps the most famous log structure.
The log home structure is created using stacked horizontal logs. Typically, the same piece of wood is used for the interior and exterior walls, but there are different options for exterior finishes for distinctive character.
One downside of the log home, unfortunately, is energy efficiency. Traditionally, log homes rely on the mass of the logs to naturally insulate the structure. Because of the size and width of the logs, they retain heat. But that technique doesn't yield the most energy efficient structure. Many log home manufacturers have begun addressing this challenge with different solutions and options. Some log home manufacturers use insulation between the logs, and often the logs are chinked to eliminate air infiltration. Most log manufactures offer rigid foam insulation as an option to enhance the energy efficiency of the home.
If you are considering a log home, definitely do your research and ask questions to make sure that the energy efficiency of a log home will meet your needs as well as local building codes. Energy efficiency, as well as specific maintenance requirements, are often reasons why many homeowners look into timber frame construction as an alternative.
Timber Frame Construction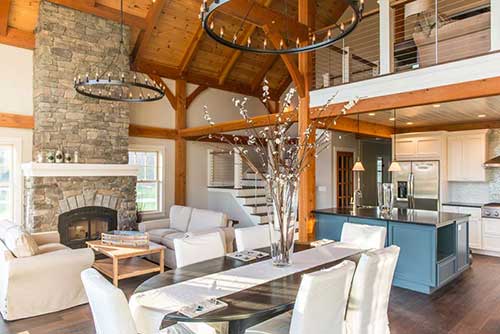 Timber frame home
Timber frame construction is far from new. In fact, it has been around for hundreds of years. Old timber structures can still be found standing today in Europe and Asia. In the United States, timber frame construction dates back to 1641 to The Fairbanks House in Dedham, MA. It still stands today and is considered a historic site. Many New England barns were also constructed using timber frame construction, often crafted using pine or hemlock.
During the industrial revolution, conventional stick framing began making headway and eventually became the predominant method of home construction. Today, conventional 2x wood is still employed in most homes today, whether using on-site stick-built construction or prefabrication using 2x in a factory. In fact, timber frame construction became practically obsolete for many decades. It was not until the 1970s that there was a timber frame revival in the United States, originating in New England. And now the majority of timber frame manufacturers and builders are located in the Northeastern part of the U.S.
Timber frame construction (also similar to post and beam) is a great wood home alternative to log home construction. The timber frame construction method uses posts erected from walls and bents, spanning from sill to eave or ridge. The bents run perpendicular to the ridge of the roof, while walls run parallel to the ridge. Wooden pegs secure the mortise and tenon joinery of timber framing with no need for metal connections. Traditionally, the vaulted ceilings are finished with tongue and groove wooden boards to enhance the wood look. But, for a more modern look, sheetrock is also an option. The walls are almost always sheet rocked, which provides good interior balance with the wood.
Timber frame homes are also often highly efficient with the use of Structural Insulated Panels (SIPS). SIPS offer high r values (up to R67 if you wish). SIPS panels also offer continuous insulation and no thermal bridging, creating an extremely airtight structure. In fact, timber frame and SIPS homes are among one of the most energy-efficient homes today.
What Makes a Timber Frame Home Different?
There are some key differences between log and a timber frame homes. To summarize, timber frame homes look just like any other conventional home on the outside, but on the inside, they have exposed wooden beams that can be as rustic or as modern as desired. Benefits include less maintenance and upkeep, less shrinking, and are far more energy efficiency. At Davis Frame Company, many of our inquiries come from folks who started out interested in building a log home. Then they discover the alternative wood home option of a timber frame home! A timber frame home is a perfect choice for those who want to control the amount of interior wood and who want to achieve optimal energy efficiency.
We hope this explanation of log home vs. timber home construction will help you to decide which wood home option is right for you. Both are beautiful options, but have significant differences, which may lead you in one direction or the other. Interested in exploring a timber frame home? Call us today at 800.636.0993!
Check out the beauty of timber frame construction through our gorgeous sampling of timber frame exteriors and interiors below!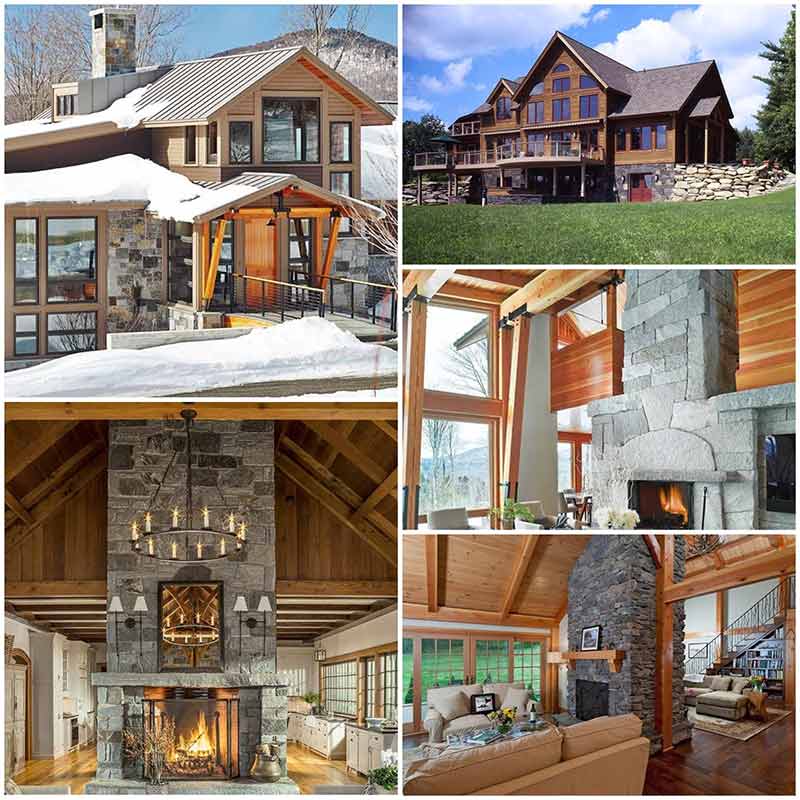 Visit our timber frame photo gallery today for more ideas!