Explore cozy timber frames, an alternative to log homes! Over the years, log homes have been romanticized and popular, and we can see why! The coziness of a log home brings comfort and character to a home. Log homes are often the first option that come to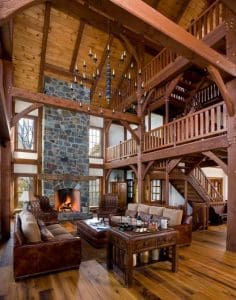 mind when seeking to build a wood home. Under discovered and equally charming as a log home,
Timber Frame and Post and Beam homes
offer a similar warmth and charm, though are not as well known to the public. Timber frame construction is a great alternative to log homes!
Timber frame homes also offer some distinct differences. They look just like any ordinary home on the outside, but on the inside, they offer warm exposed wooden beams that can be as rustic or as modern as you would like. Timber frame homes also offer less maintenance, less shrinking, and are far more energy efficient. At Davis Frame Company, we receive many prospects who initially were looking to build a log home, until they discovered the alternative wood home option, a timber frame! A timber frame home is a perfect choice for those that want to control how much wood they feature in their home and want to achieve optimal energy efficiency.
Discover the beauty of timber frame and post and beam through our gorgeous sampling of timber frame great rooms!
Visit our timber frame photo gallery today for more ideas!