Summer is officially here, yet, unfortunately, during the time of COVID-19, your usual summer plans may look different – beaches, pools, and travel may not be in your near future. Maybe now is the time to discover your backyard and turn it into a summer oasis! Now more than ever homeowners are investing in pools, porches, fire pit areas, lavish gardens – anything that might turn your home into a summer vacation destination. There are so many ways, small and big, that you can spruce up your yard and create your own backyard oasis! Check out our ideas below:
Build a Deck or Patio

A sample of deck and patios our clients have added to their timber frame homes. 
Does your home have a backyard patio or deck? If not, this is the first step to creating your own outdoor retreat. Consider building a patio or deck large enough to accommodate patio furniture and, if you love flowers, a few potted plants arrangements. You can also add character to your patio through lighting and décor. A great resource for ideas and products is Plow and Hearth. You'll love their selection of unique outdoor lighting, including patio lanterns and outdoor string lights, as well as other outdoor decor options. Looking for shelter from the sun?  For a cool place to enjoy, consider adding an awning to your deck like the one shown in the picture above. Adding nice patio furniture, lighting, and outdoor accents will take your space from boring to great!
Create a Unique Garden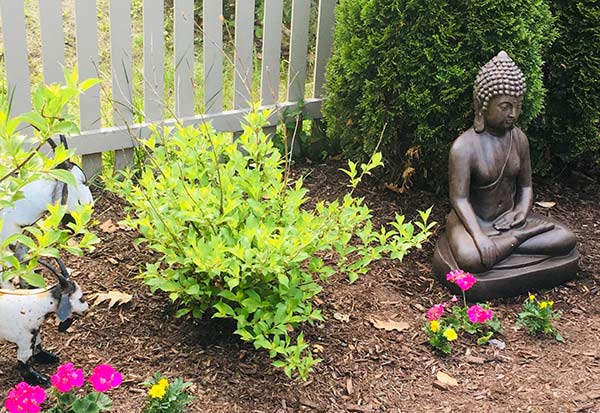 Do you plant a vegetable and/or flower garden every year? Why not turn that garden into your own tranquil place to relax? Add a path of stepping stones leading to and through the gardens and, I highly recommend, tuck a bench, garden statue, or windmill in a peaceful corner. Pictured above is a section of my perennial garden, featuring a Buddha statue and some whimsical metal goats.  There is something peaceful about sitting by your garden that takes the day's stress away.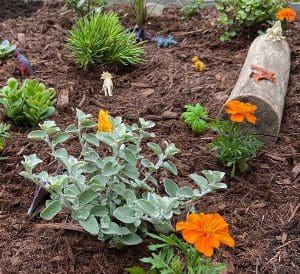 Another cool idea that I implemented this year was a dinosaur garden for my boys. If you have children or grandchildren or even are just looking for a fun garden idea, creating a dinosaur or fairy garden might be a great option. To create my dinosaur garden, I went to Home Depot and found spiky plants, succulents, tree-like plants, and even added some marigolds for a pop of color. I also added a log, twigs, and toy plastic dinosaurs. I finished the garden by adding a layer of bark mulch. My kids love to play in this garden every day. Better than the beach? Maybe not, but it's easy to get to!
Amazing Outdoor Structure Ideas

Now we will cover some bigger wow factor ideas for your backyard. Pictured above is one of our client's backyards in the suburbs of Boston, Massachusetts. The homeowners created a truly remarkable space with a timber-framed pergola, a watering fountain, and 2 garden pavilions. This outdoor space was designed and built as a place to relax and enjoy the outdoors. The timber pavilions are super cute and what a perfect place to read a book or reflect.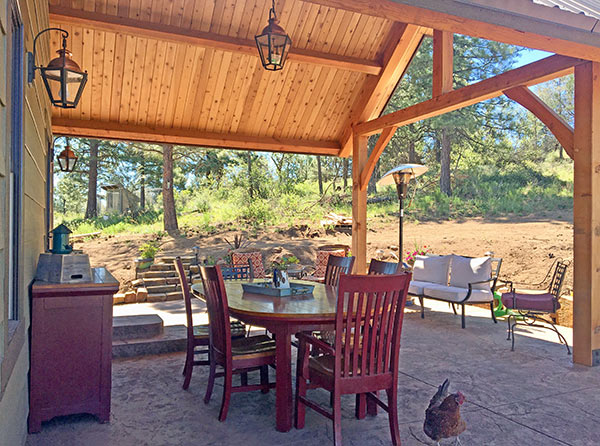 Here's another great idea – add an outdoor timber frame porch to make your outdoor space stand out. Our clients in Oregon added this 16′ x 14′ covered timber frame porch to their timber frame home. This structure keeps the outdoor seating space cool and sheltered from the sun and makes a terrific entertaining space for friends and family. An outdoor fireplace or fire pit could enhance it even further.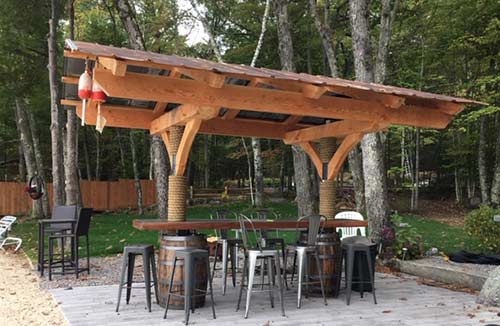 Going out to bars and restaurants less these days? How about adding a cool tiki bar constructed out of timbers in your backyard? Our client on Lake Winnipesaukee brought his tiki bar design to us. We fabricated the Douglas fir timbers, and he assembled the timber frame and built the remainder of the tiki bar right on his property. This is our first tiki bar and we have to say it is unique! Our client added whiskey barrels to the design and, to enhance the look of being by the lake, added some buoys and nautical rope.
Consider Adding a Pool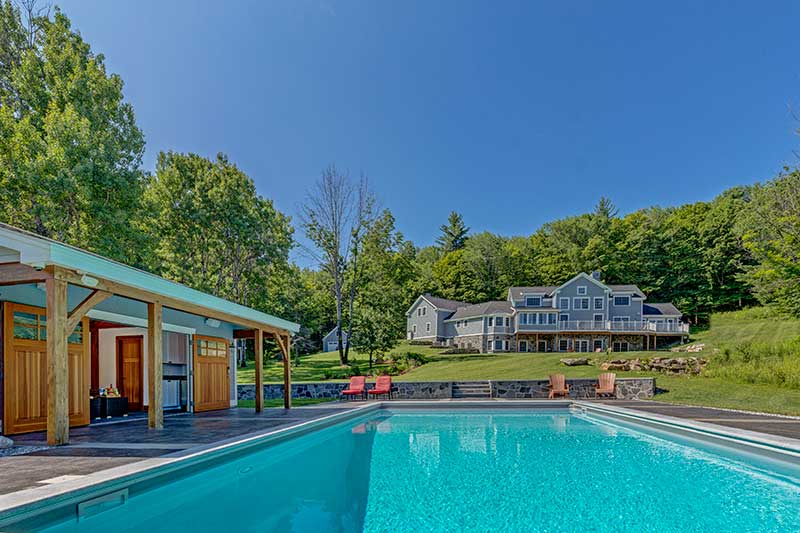 For those of you looking to do a major backyard transformation, how about adding a pool? With these hot and humid summers on the increase (even us located in the Northeast), a pool is a welcome addition that can be enjoyed for several months. Above is an in-ground pool that our clients added a couple years after moving into their timber frame home. They also added a timber frame pool house, featuring a seating area, mini bar, bathroom, and storage for pool floats. When you have a pool, there is no reason to leave home and it may even bring your family and friends together for more frequent visits.
Looking to include a timber frame in your outdoor space? Timber framing isn't just limited to homes. Let us help you create your special space. If you want to learn more about building a timber frame pergola or garden shed, call us today at 800-636-0993! For more ideas, check out our previous blog post with featurin Amazing Timber Frame Outdoor Spaces!