When embarking upon the building of a custom timber frame home, the customization options are unlimited. One such option that can make a big difference is a custom stain or finish. At Davis Frame we have found that requests for custom finishes have become increasingly popular over the past couple of years. Our standard timber finish is a clear tung oil that brings out the natural beauty of the Douglas fir or Pine wood, but alternate stains and finishes are certainly available. Plus, we can create custom finishes such as wire brush, a chamfered edge, or a peeled look. Check out some of the unique custom timber frame homes in the works or completed below.
Custom Timber Stains
As noted above, more and more homeowners are requesting custom stains and finishes, and we are always happy to oblige, whether it be a weathered gray, espresso brown, black painted, or even a whitewash finish.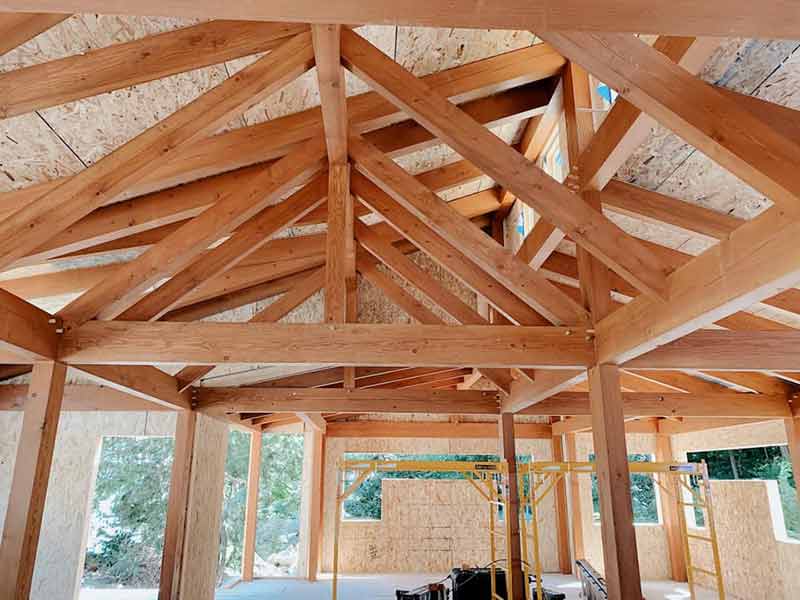 Above is a gorgeous new timber frame home being built in Massachusetts. The Architect and client chose to apply a subtle stain with brown undertones to help reduce the orange glow of the Douglas fir timbers.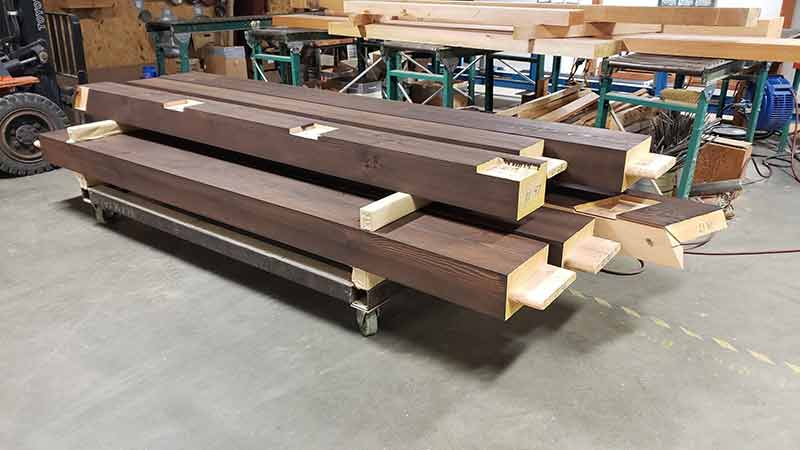 The timbers on the above home, a new hybrid timber frame home being built on Lake Winnipesaukee in New Hampshire, are being enhanced by beautiful dark brown stain called Kona Varathane.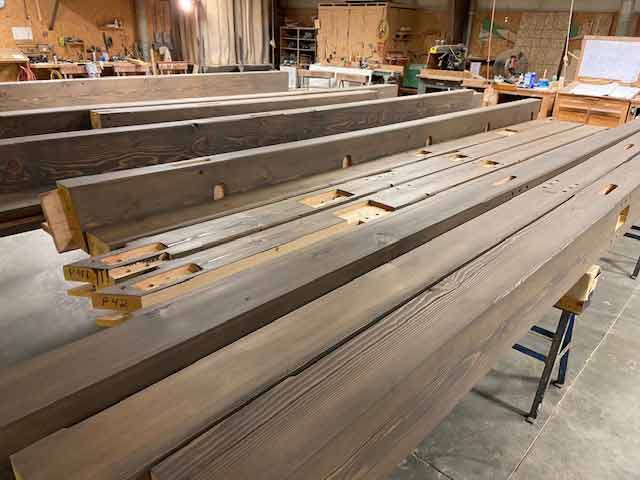 The above photo shows a Briarsmoke stain by Varathane. It offers a nice balance of brown and gray and has been requested on two different timber frame projects this year.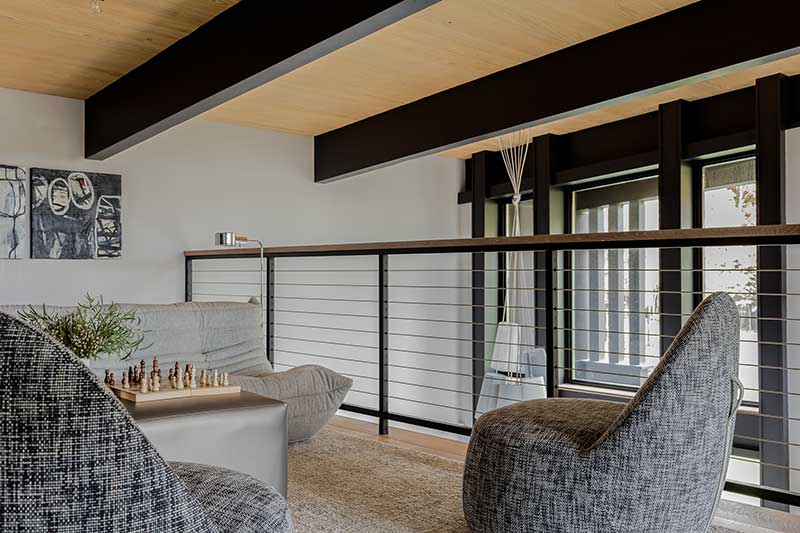 Photography by Michael J Lee Photography
Aiming for a crisp, contemporary look, the owners of the above modern mountain Vermont home chose to paint their big, oversized glue-laminated beams black. The finished product is stunning, with great clean lines.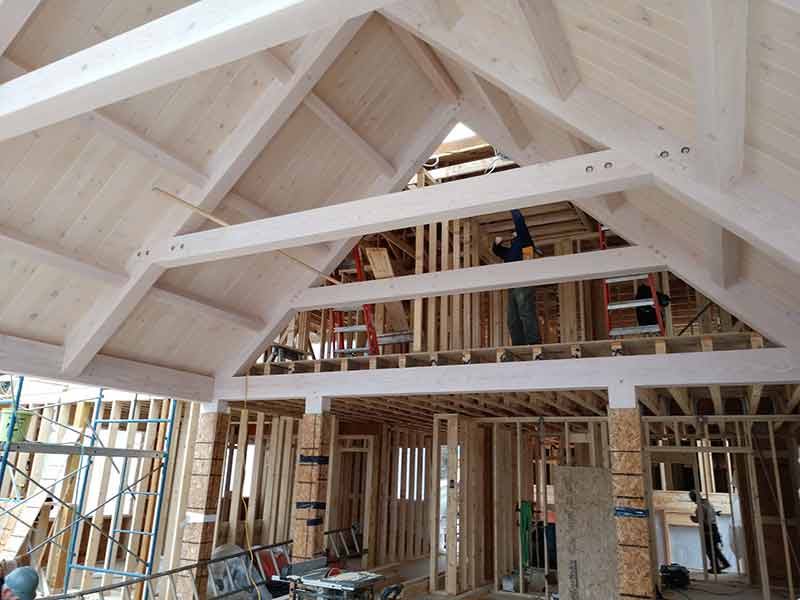 Looking for a lighter look for your timber frame? Consider a whitewash stain. Above is a timber frame home that features a simple framing system and a clean look with the whitewash.
Custom Finishes for Timbers
Unique stains are a great way to add special details to a timber frame home, but not the only option. Timber frame brackets are another good customization option to add a modern vibe to your frame. We've also done wire brush finishes on timbers to lend a subtle rough aged finish. Other customization options include chamfered edges such as a beaded chamfer, or a 45-degree chamfer. No chamfer is also an option.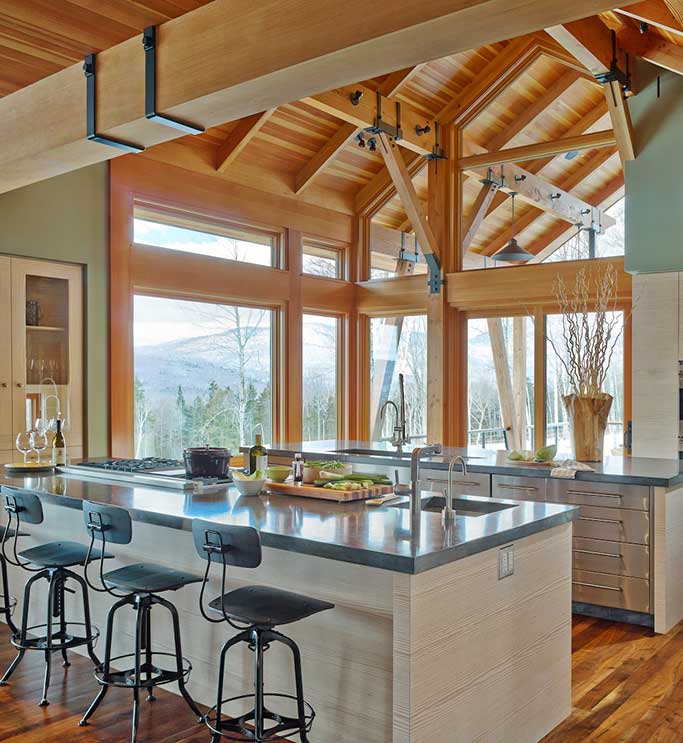 Photography by Jim Westphalen
This Mountain Modern Vermont timber frame home features metal brackets to enhance the modern vibe.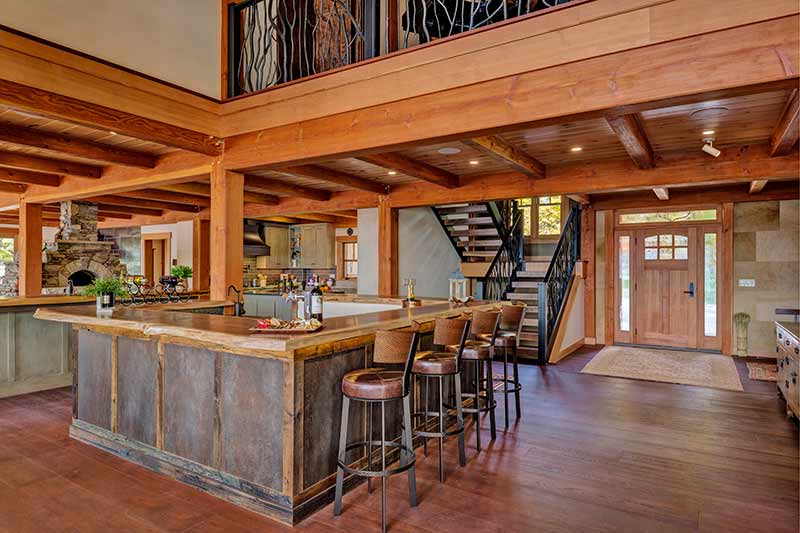 Our clients wanted an aged look to their timbers and requested a wire brush finish for their Lake Winnipesaukee timber frame home. The wire brush finish raises the grain of the wood, giving it a subtle rough texture. It's a nice added touch for those that wish to have a soft weathered or aged look.
Interested in learning more about Davis Frame timber frame homes and our custom finish options? Contact us today by calling 800.636.0993.