Are you looking to build a new home in Vermont? Rural Vermont is the perfect backdrop for a timber frame home. Over the years Davis Frame Company has crafted hundreds (actually over 300!) of timber frame homes in the state. In fact, many of our early projects were in and around the small Vermont town of Brownsville, where Davis Frame was originally founded in the 1980s. Home to Mount Ascutney, the Brownsville area was a popular place to build a second home in the 1980s and 1990s. Unfortunately, with the closing of the Mount Ascutney ski area, the area is no longer as appealing for ski enthusiasts.
In the last 20 years, Davis Frame has had great success in other regions of Vermont, including Quechee/Woodstock, Killington, Southern Vermont, and Stowe. While these areas are four-season destinations, the big draw of course is world-class skiing. These destinations all feature top ski areas, making them perfect for vacation homes from nearby urban areas.
Vermont and New Hampshire, have always been popular for timber frame home building. Today, mainly because of the pandemic, the interest has increased tenfold. Because of pandemic hot spots like Boston and New York, the rural Vermont landscape has become more appealing for those looking for an escape. Besides the lure of winter or fall foliage weekends, more and more working Americans can now work remotely from anywhere. This has resulted in many people choosing to move to the green mountains. According to recent news stories, the recent surge in the housing market in rural New England towns is equal to or greater than the mass exodus seen after 9/11.
Quechee-Woodstock Region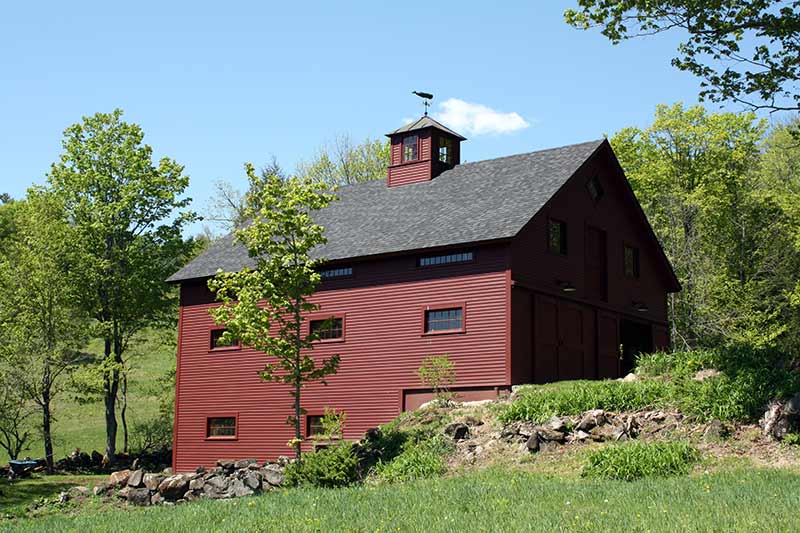 Woodstock, VT timber frame barn
The Quechee and Woodstock region are gorgeous with upscale rural living. The area also offers an abundance of hiking and skiing trails, working farms, quaint New England villages, and plenty of great dining options. The area offers small-town living with enough to do year-round for those looking to relocate.
Quechee, home to the stunning Quechee Gorge, is a charming Vermont village. Near the Gorge is a unique antique mall. It's not your average mall and you never know what you will find! Within the "mall," there's an antique toy museum – a great way to take a walk down memory lane – and a village store where you can taste and buy the "best cheddar in the world," by Cabot, Vermont's famous cheese. Quechee is also home to the Vermont Institute of Natural Science (VINS) and the Quechee Club, offering topnotch golfing with its Lakeland and Highland courses. Another key hallmark of Quechee is Simon Pearce, known for its high-quality hand-blown glass products. It is worth a visit for their glass blowing demonstrations, on-site store, and fine dining in a beautiful setting.
Woodstock is a quintessential Vermont town that looks like it is straight out of a Hallmark movie. It's another great Vermont town to put down roots if you are looking for New England country living. Its gorgeous traditional New England downtown lends itself perfectly for strolling and window shopping, offering plenty of great dining and shopping options. The surrounding town is filled with beautiful old homes, barns, and farms like Billings Farm, a working farm where you can visit the animals and even learn how butter is made. The farm provides a glimpse into what farm life was like back in the day.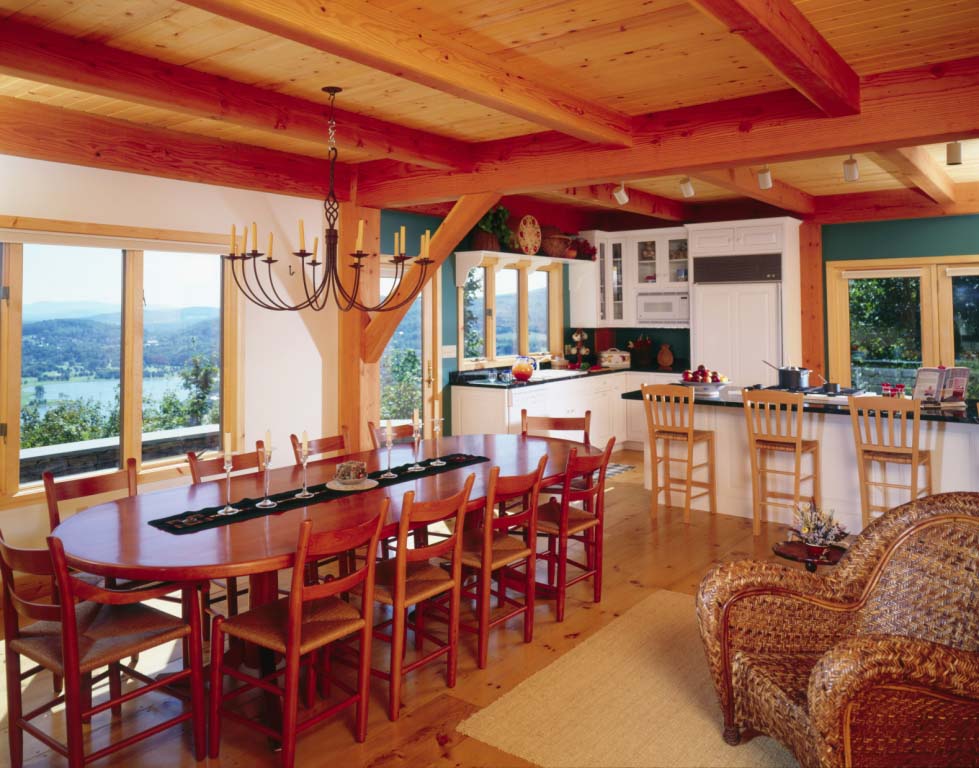 This Woodstock, VT timber frame home overlooks the quaint village.
Building interest in this region has ebbed and flowed over the years. Back in the 1990s and 2000s, we worked on over 20 projects in the Quechee and Woodstock area. But when the 2008 housing crisis hit, interest waned and building slowed way down. Today, however, during the COVID-19 pandemic, interest has once again increased from those interested in building in the area. Apparently, it offers rural living with enough to do to appeal to those looking for a change of pace and exchange urban living for country life.
Stowe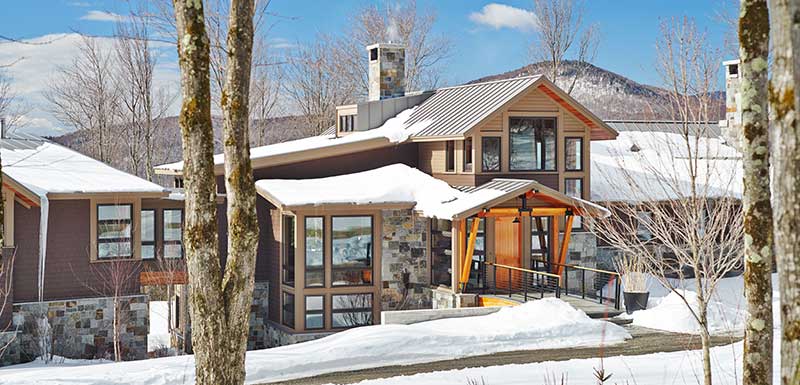 Stowe, VT timber frame ski home (timber frame by Davis Frame)
Stowe is previously known as the Ski Capital of the East. It is a quaint northern Vermont ski town that offers much more than just skiing, making it a year-round destination. While Vail-owned Stowe Mountain Resort always drives up Stowe's winter population, vacationers and second homeowners are drawn to the town as much in the summer and fall months. In fact, the local central reservation center, Stowe Area Association, says that summer is now busier than winter in Stowe.
Winter months are popular amongst outdoor enthusiasts, with some of the most challenging alpine ski terrain in the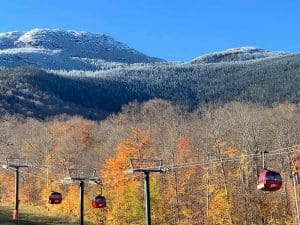 east, but also for the multiple Nordic skiing opportunities, ice climbing, and more. Don't ski? Check out a few of the world-class spas, diverse collection of shops, and a wide range of dining.
Summer and fall appeal equally to the athletic and non-athletic visitor. Sports fans will love the multiple challenging golf courses, hiking trails, and on-mountain activities. And, everyone will love the cute downtown village that's dotted with cafes, shops, wine bars, and more. Walk off a big lunch or an after-dinner ice cream cone on the Recreation path – perfect for the entire family!
And, if you love classic movies and history, you won't want to miss a visit to Trapp Family Lodge, founded by the real-life von Trapp family of the classic movie, The Sound of Music. Family ancestors continue to operate the lodge, set high above the town. Its also is home to miles of cross-country ski and mountain bike trails, and an Austrian-style bierhall and brewery.
Whether you're looking for a second home location or a new primary residence, Stowe offers so much for all ages. Check out this Stowe, VT timber frame home we worked on several years ago.
Southern Vermont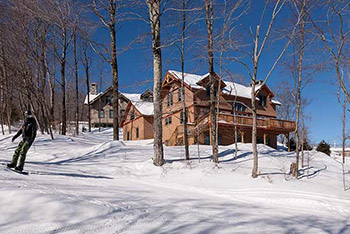 Slopeside timber frame home on Stratton Mountain
Southern Vermont has been a huge draw for second homes over the years. It's no wonder as it's home to many great ski mountains like Stratton Mountain, Mount Snow, Killington, and the private members-only mountain, the Hermitage Club. Easily accessible for those living in Western, MA, Eastern New York, and Connecticut, southern Vermont is a great option for folks looking to build a second home.
As in other regions, we've seen fluctuating building interest in the southern part of the state. A few years ago we saw a huge surge in second homes in Wilmington, Vermont, home of the Hermitage Club. This elite private ski mountain was the main draw, but when it went belly up, interest flat-lined. However, in 2020, a group of Hermitage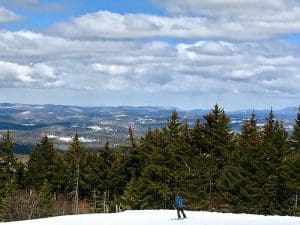 Club members bought the mountain and will open it again, increasing interest once again.
There are quite a few other ski areas in the area, many of which are a short drive from several rural Vermont towns. Mount Snow, like Stowe Mountain Resort, is also now part of Vail Resorts. So if you purchase an Epic Pass, you have access to many mountains within a 2-hour drive. The pass includes Mount Snow, Okemo Mountain, Stowe Mountain Resort, Mount Sunapee, and a few other smaller mountains. It's the perfect area for those who love to ski and snowboard.
Manchester, Vermont, close to Aspen-owned Stratton Mountain, is also a nice Vermont town with a delightful village that offers an abundance of shopping (including outlet shopping) and some great dining and lodging options. This area is also a popular town for second homes.
Vermont is gorgeous, and it's no wonder why it's a popular place to build a new home. The quiet and rural living is ideal now more than ever as we all try to social distance ourselves. It's much easier to do in Vermont. There is so much to do throughout the state outside during all four seasons. Are you interested in building a new timber frame home in Vermont? Give us a call today at 800.636.0993, we would be happy to speak with you about your new home project.