Learn about the top secondary home markets in New Hampshire. At Davis Frame Company, we work with clients on their primary and secondary homes, however, second homes definitely make up a good chunk of our business. We've seen a surge especially in building secondary timber frame homes in New Hampshire. The top regions we are seeing clients building in are Lake Sunapee, the Lakes Region surrounding Lake Winnipesaukee, and the White Mountains. Why is New Hampshire so popular for second homes? The quick answer is it's easily accessible for the Boston metro area.
Lake Sunapee
The Lake Sunapee region has a lot to offer between beautiful pristine Lake Sunapee and Mount Sunapee where skiing and snowboarding can be enjoyed. It truly offers the best of both worlds, no matter what season you like to play in. Lake Sunapee is just over 8 miles long and offers a quiet place to enjoy lakeside living. Whether you like to boat, sail, fish or just swim, Sunapee offers the perfect place to enjoy the Summer. One huge draw for many to have a home on Lake Sunapee is due to its superior clean water which is known to be one of the top cleanest lakes in the U.S.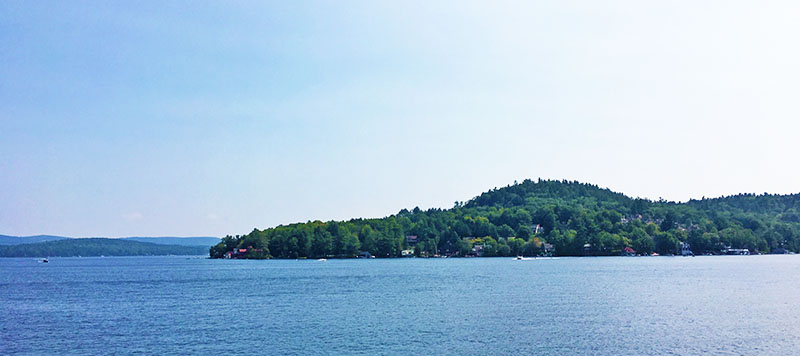 Mount Sunapee offers great skiing for the family and is a huge draw for folks of all different levels. The mountain offers a nice balance of easy and advanced trails. In the Summer and Fall, Mount Sunapee offers a recreational park which includes mountain biking, zip lines, and aerial courses. during this time you can also hike up the mountain where you will have the most breathtaking view of Lake Sunapee below. For the fitness enthusiast, a local instructor offers yoga classes on top of the Mount Sunapee or on a Lake Sunapee's Newbury harbor dock during the summer months.
Lake Sunapee timber frame by Davis Frame
This area has become a very popular destination, mainly because of its proximity to the Boston metro area, and those coming up on I91 from Massachusetts and Connecticut.
Lake Winnipesaukee
The Lake Winnipesaukee area is a desirable area with lots to offer. Lake Winnipesaukee is the largest lake in New Hampshire surrounding 7 towns and is approximately 21 miles long and has 258 islands. It's been a popular tourist destination for more than a century. Being by the lake brings a multitude of activities to the table, boating, kayaking, fishing, and swimming. Even though the lake is a big portion of tourism there are other things to enjoy like hiking, winter sports, shopping and even attend some great summer concerts. It really is the perfect area to consider a second home to enjoy all four seasons that New Hampshire offers.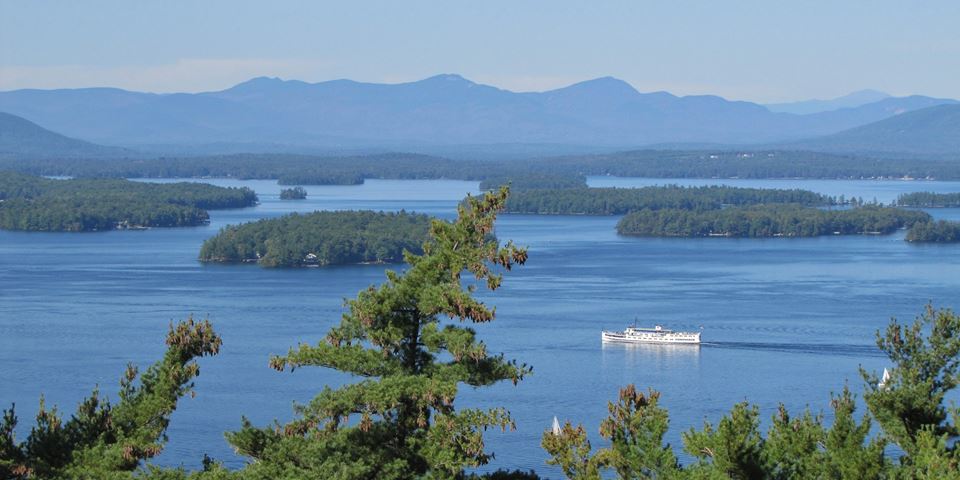 Photo Credit: visitnh.gov
Over the past few years, we've worked on several Lake Winnipesaukee projects, including homes in Meredith, Wolfeboro, Tuftonboro, and Moultonborough. We've been part of large vacation homes and small family cottages, built for generations to come. Also near Lake Winnipesaukee are a few other lakes that make up this Lakes Region of New Hampshire. Other smaller but popular lakes include Lake Winnisquam, Lake Wentworth, Squam Lake, and Newfound Lake.

Beautiful hybrid timber frame home built in Meredith, New Hampshire right on Lake Winnipesaukee.
Are you interested in learning more about building a home on Lake Winnipesaukee? Call us to discuss your ideas, our project managers are very familiar with the area.
White Mountains
The White Mountains region of New Hampshire also offers a lot to do and has been a tourist destination for years. The area features picturesque views of mountains and forest everywhere you go and Mount Washington is the most rugged mountain in New England. It's also easy to get to from the Boston metro area, making it a desirable place for a second home. The White Mountains region offers an abundance of hiking trails, mountains to ski on, water to swim in and kid-friendly parks to visit. Over the past few years, we've seen a huge interest in more people planning to build vacation homes up in the mountains where they can enjoy all four seasons.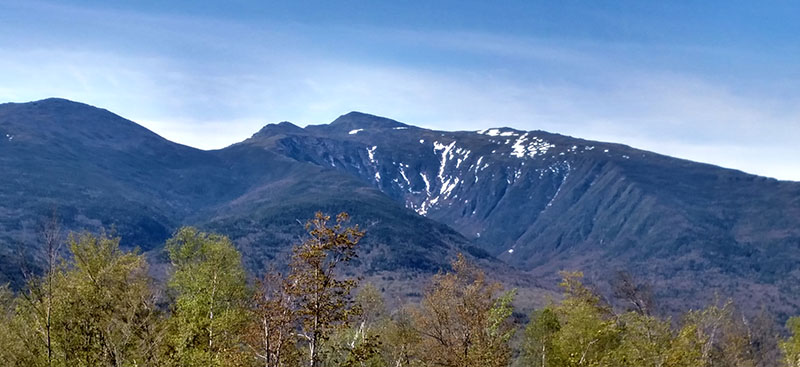 Some of the most popular towns that we've crafted second homes include Franconia (near Cannon Mountain), Lincoln (near Loon Mountain) and North Conway (Mount Cranmore). We've worked over a half dozen homes in the White Mountains over the past couple of years. Timber frame living is very desirable in this area because of the natural ambiance the wood gives off, allowing homeowners to enjoy the natural beauty of wood inside and outside.

Beautiful White Mountains timber frame ski home! The timber frame features spectacular views of the mountains nearby.
We have many exciting projects coming up this Summer and Fall in the White Mountains. If you are interested in seeing one of these projects, call us at 800.636.0993!