Lake Winnipesaukee, long a popular second home destination, is home to several gorgeous timber frame homes crafted and designed by Davis Frame over the years. In fact, over the last 5 years we've worked on over a dozen projects in the Lakes Region. This entire region has always been sought after by second homeowners, however, since Covid, it's become increasingly more popular. Many folks are seriously considering vacation homes in New Hampshire, with its year-round recreational opportunities among the abundant mountains and lakes. New Hampshire's Lakes Region is an easy drive from the Boston metro area, making it the perfect locale for a getaway spot.
About Lake Winnipesaukee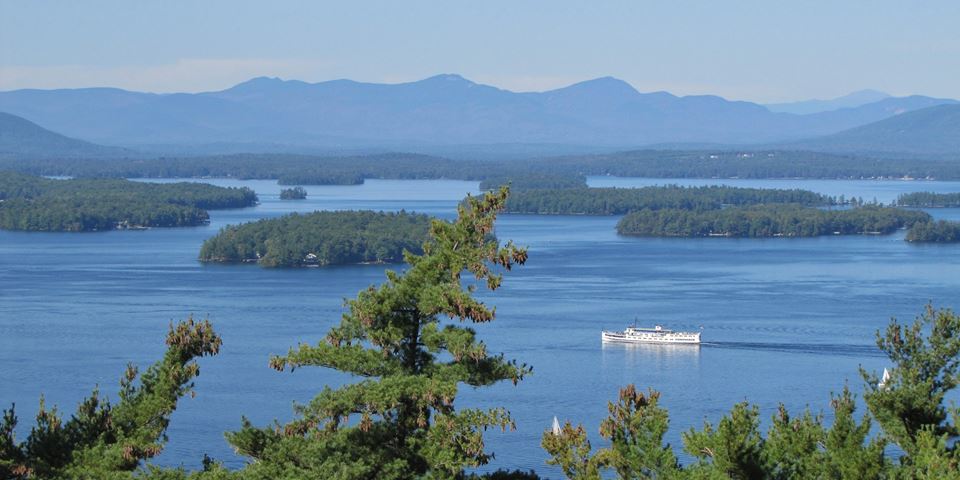 Photo Credit: visitnh.gov 
The Lakes Region offers over 200 bodies of water, including the state's biggest and most visited lake, Lake Winnipesaukee. Lake Winnipesaukee is approximately 21 miles long, with 258 islands. The lake is surrounded by 7 towns and has been a popular tourist destination for more than a century. The lake is a natural draw for vacationers who enjoy water activities such as boating, kayaking, fishing, and swimming. And, besides all the freshwater fun, a sizeable portion of the region's tourism revolves around things like hiking, winter sports, shopping, and even summer concerts. As a four-season destination, the Lakes Region offers activities for young and old year round.
New Hampshire's Lakes Region is centered around Lake Winnipesaukee, yet also includes other well-liked lakes popular among second homeowners, including Lake Winnisquam, Lake Wentworth, Squam Lake, and Newfound Lake.
Lake Winnipesaukee Timber Frame Homes
Over the past few years, Davis Frame has worked on several Lake Winnipesaukee projects, including homes in Meredith, Wolfeboro, Tuftonboro, and Moultonborough. We've taken part in creating large vacation homes and small family cottages. We've also developed wonderful relationships with many of the area's finest builders. So if you have a project on Lake Winnipesaukee, we can give you a list of builders with whom we've worked with over the years.
Award-Winning Parade of Homes Winner in 2019

This timber frame home is truly stunning and won the 2019 Lakes Region Parade of Homes People's Choice award among many other awards given out (best new build, best kitchen, best exterior finish, best interior finish, and best landscaping). Davis Frame Company assisted with the timber frame home design and supplied the structural package for the home and the garage, while local lakes region builder, Key-Day Builders built the home.
This Adirondack style lakeside timber frame home features 9,850 square feet of living space with 4 bedrooms and 7 bathrooms. Our client's vision was to create a rustic lakeside retreat they could enjoy with family and friends during the summer months. It definitely doesn't disappoint and offers a one-stop vacation for the homeowners and their guests. With the lake, a boat, an infinity pool, and an extensive patio with a fire pit, there is no reason to go anywhere else!
Hybrid Lakeside Home 
Check out this beautiful Lake Winnipesaukee hybrid timber frame home! New Hampshire General Contractor Hayward & Company designed and built this custom home and Davis Frame supplied the Hayward's with a structural hybrid home package. The hybrid timber frame home design features a center core timber frame. The design of this hybrid timber frame home features timber frame at its center core, with the timber frame structure starting in the entry and extending into the great room. The great room flows into the dining room and kitchen to the left. To tie into the timber frame, the homeowners extended the pine tongue and groove decking throughout the home. Tongue and groove ceilings are a common feature in lakeside homes. The wings of the home were conventionally built with our panelized wall system.
The house features plenty of space for guests with bedrooms on the second floor and in the basement. The home is in a cove, allowing privacy for the homeowners and their guests. It is also set in a perfect location for the most beautiful sunsets, hence the reason why we call it the Sunset Cove!
Multigenerational Timber Frame Vacation Home

Discover this timber frame legacy home! Originally there was a family cottage lovingly named Airlie, standing in its place. It was well over 100 years old and leaning a bit more each year. The original Airlie was built right on the waterfront – no longer an option for new structures. Thankfully, our clients were grandfathered in to build their new home in the same location, so long as the footprint stayed the same. Unfortunately, the original footprint was small at a 20'x24′. After much consideration, the family increased the footprint to 30'x30′ and moved the house back. Even though it's not as close to the water as the original, you still gain a spectacular lakeside view that draws you in.
This timber frame plan only has 1,720 square feet of living space in the key areas of the home (loft not included), but, because of its open space on the first floor and high ceiling on the second floor, it appears much larger, inside and out. The family can enjoy the lakeside view from the living room and dining room, and two bedrooms on the second floor face the lake. There are 3 bedrooms total in the house.
We are happy the family constructed their new multi-generational home with timber frame construction. This new home should easily pass on for 100+ more years to come!
Contact Davis Frame
Are you building a timber frame home on Lake Winnipesaukee or in the Lakes Region? Call us today at 800.636.0993. We would love to chat with you about your new home project!