Discover lakefront timber frame living in Vermont! If you've spent time on a lake, you know it brings a sense of calm and time moves a little slower, enabling you to enjoy the sweet moments of summer. Lakeside timber frame living is a great place to bring the family together to enjoy boating, fishing, and water sports. Living by a lake will create memories that will last a lifetime. This is just what we did with our client's, we helped them design and craft a home where the family can come together.

This beautiful custom home features a hybrid timber frame design. Our client's chose to timber frame the center section only. The timber frame section includes the foyer, dining room, and great room. The wings of the home were built using our conventional panelized wall system. One wing is the master suite and the other wing on the first floor is the kitchen, pantry, laundry room, and mudroom. Building a hybrid timber frame home has become popular. It allows the homeowner to have a touch of wood in the main areas while creating savings on other areas of the home by using conventional construction.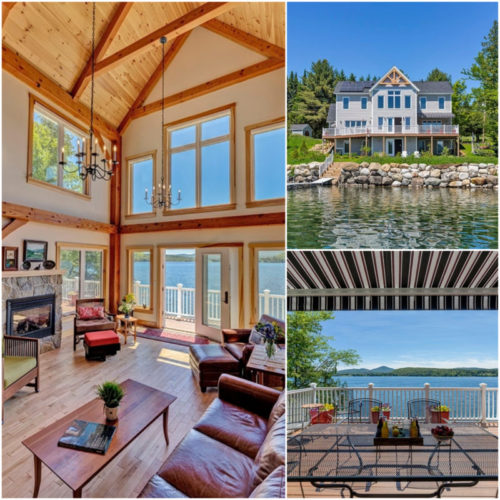 The main living areas on the first floor open up to one another. The great room, dining room and kitchen all flow nicely into one another. The second floor of this hybrid timber frame home features two guest bedrooms, a shared bathroom as well as two offices. The loft is also a nice common area where guests can enjoy the beauty of the timber frame. It also features a spectacular view of the lake straight ahead.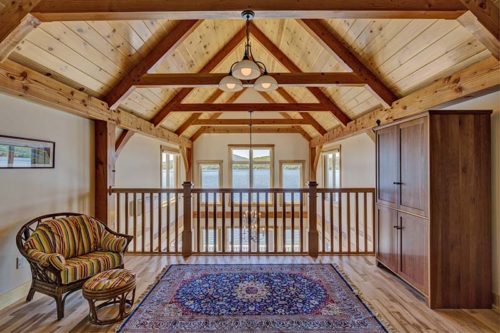 Visit our website to see more pictures of this beautiful lakeside hybrid timber frame home!
We would love to speak with you about your new home project ideas! To speak to someone about your ideas, please call 800.636.0993!