Discover how the same floor plan can have two different looks! In the quest to find the perfect floor plan for your new home, you may notice that many floor plans are similar or the same, but may vary in architectural design. One thing that works well in the home design world is to create a few baseline standard floor plan layouts and change the architectural design to create different models. For example, MossCreek offers a plan called the Cumberland Trace which has been popular over the years.  MossCreek took the popular Cumberland Trace floor plan and created a new model called the Concertina which offers a more modern version of the popular plan. This is a great example of two different models that differ in architectural style but offer the same floor plan. There are only so many variations of a floor plan you can create.

Above in the first picture shown is The Cumberland Trace. This architectural style has a craftsman look with more rustic appeal featuring natural wood siding and stone pillars. The Concertina offers a similar architecture, however, some cosmetic details changed to give it a fresh modern look. To modernize the design, MossCreek is showcasing white siding, black exterior trimmed windows and removed the stone and exterior timbers.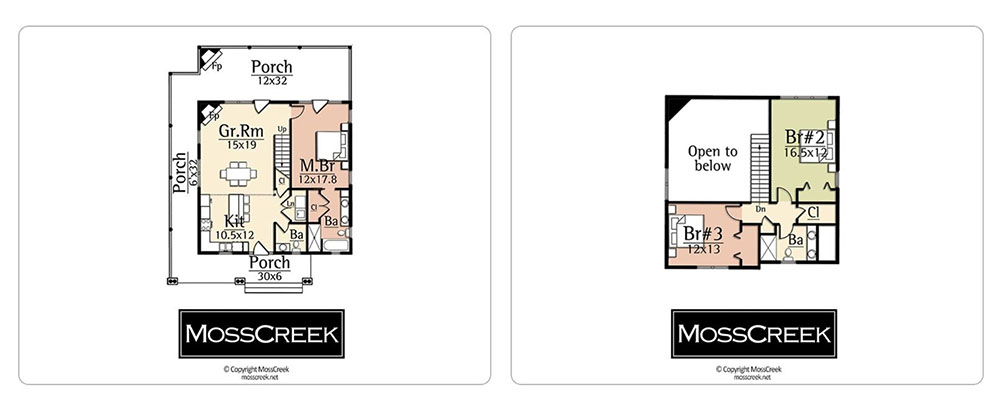 The floor plan features open living areas and a master suite with exposed beam ceilings on the main level. The vaulted ceiling of the great room lets dramatic light fill the home. On the upper level, the home features two pleasant guest rooms and a shared bathroom. This floor plan is perfect for those looking for a small timber frame home!
Interested in learning more about our timber frame homes? Call us today at 800.636.0993!