Congratulations, you've decided to build a new timber frame home! Now where to begin? The first step is to decide on a floor plan. If you're like many, then it's likely that you've spent numerous hours looking for just the right plan to meet your needs. This can be frustrating, but we can help you find the perfect timber frame floor plan with the below tips.
10 Tips to Help You Choose a Timber Frame Floor Plan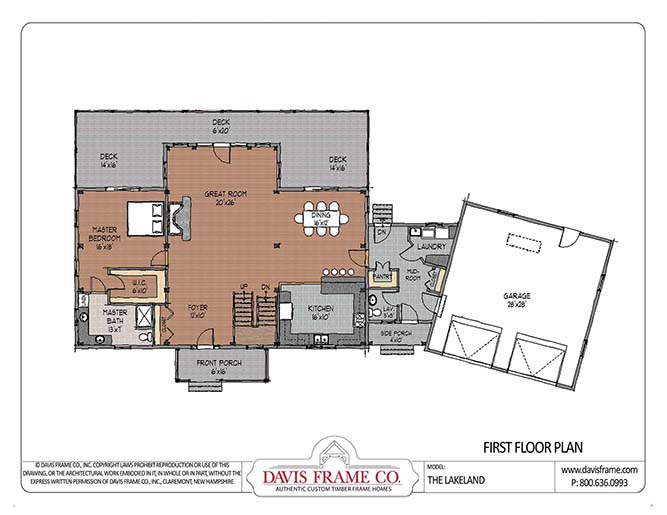 1. Establish Your Budget
We recommend establishing a budget for your new home as a first step. Setting a budget is crucial so you can determine what size timber frame house you can afford to build.
2. Consider Your Building Lot
Consider your building lot size and site characteristics. Is your lot large and flat or is it narrow or hillside? Your lot could determine the size and layout of your home design. Does your lot lend itself to a walkout basement? Adding a walkout basement is a perfect way to add space without expanding the footprint of your home.
3. Main Living Space Layout
Most of our floor plans feature an open concept layout. Do you like an open layout with the primary living spaces open to one another, or do you prefer discrete rooms walled off from each other?
4. Determine Number of Rooms
How many bedrooms and bathrooms will you need? Do you want your master bedroom on the first floor? Where are the guest bedrooms located and will they each have their own bathroom or a shared bathroom? Consider rooms other than the primary living spaces. Do you need to accommodate for an office or playroom, or do you enjoy entertaining and want extra entertainment areas?
5. Architectural Style
What architectural style home do you like? Do you prefer a more traditional look, a craftsman style, or a modern home? Also, consider the neighborhood and if there is a dominant architectural style and how your house will fit in among the others.
6. One Story Vs. Two Story
How many floors do you want in your new home? Are you looking for an age-in-place home? If so, you may want to consider one level living. Have kids and want all your bedrooms on one level? Then perhaps you should consider a more economical two-story home with bedrooms on the second floor.
7. Guest Space
Do you plan to have a lot of guests? If so, consider adding guest quarters. The location of your guest space could vary depending on whether you have children or grandchildren visiting or an elderly parent. You may also want to consider adding to a separate area away from the master bedroom if you like your privacy. Most guest bedrooms are located on the second floor or in a finished basement. If you have guests staying for a long period of time, it may be worth considering building a garage with living space above.
8. Utilizing Basement Space
It is most common when building in the Northeast to have a foundation over a slab, and thus no basement. But basements are a great way to add extra storage space, or, if building into a hill, even including a walkout basement. Walkout basements are a great economical way to add additional living space to your home, and they don't look and feel like a dark basement, but usually are bright with natural light. They are perfect for additional bedrooms and bonus entertainment space.
9. Planning a Garage?
Do you want to build a garage? Will the garage connect to the house? If you choose to have a garage now or down the road, incorporating the garage into the design during the design process for your house is very important so that everything blends together cohesively.
10. Your Wish List
Look at your existing home. What do you like and what would you change if you could? Now is the time to think about the ideal room sizes – living spaces, bedrooms, mudrooms, etc. Most of us have things we dislike about our current home and a list of things we would change. Start a prioritized wish list of important floor plan details that you would like to incorporate.
Take a look at our existing timber frame floor plans for ideas. Many of our clients use one of our existing floor plans or a MossCreek design (through our partnership) as a starting point. Don't see a floor plan that meets your needs? We can assist you and create a custom design from scratch.
Want to discuss your project in greater detail? Call 800.636.0993 to discuss your ideas with a project coordinator.