Discover our top 10 timber frame home photos on Houzz! We use the social media site Houzz to showcase our beautiful timber frame homes. Houzz is like the Pinterest for the housing industry, and, if you haven't checked it out, it's a must if you enjoy home decor and getting ideas for your new or existing home. One cool thing about having our Houzz profile, we can see what our most popular saved photos are. Below are the top 10 photos and each photo gives a description and link to more photos of the project. We hope you enjoy this fun blog post and find some good ideas for your new timber frame home.
Classic Barn Home Great Room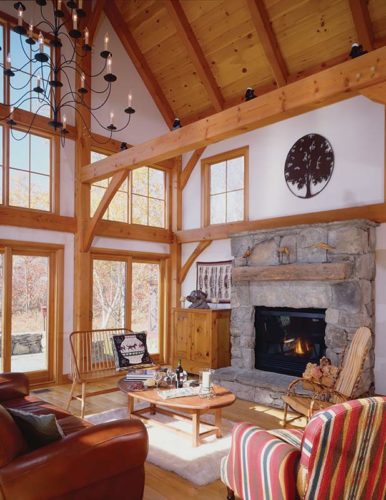 This gorgeous barn style home great room features an expansive wall of windows capturing the beauty of the Green Mountains. The stone fireplace adds to the earthiness of the space. Visit our website for more photos of our Classic Barn Home.
Long Island Post and Beam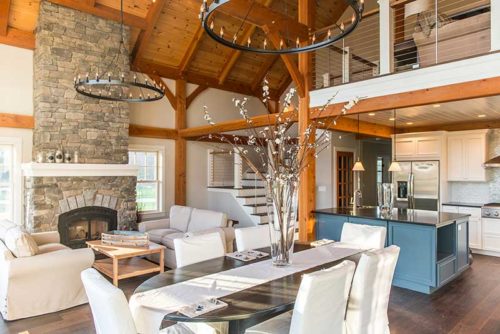 Wide open concept space is desirable for most folks wanting to build a new home. This Classic Homestead timber frame on the North Fork of Long Island features a nice compact footprint with a nice open concept layout on the first floor. The great room, dining, and kitchen are all one big space, making it perfect for entertaining during the Holidays. The owner of this cute timber frame home blended together with a shabby chic look with a touch of rustic with the traditional exposed wooden beams. The white window trim helps balance out the wood.
Timber Frame Ski House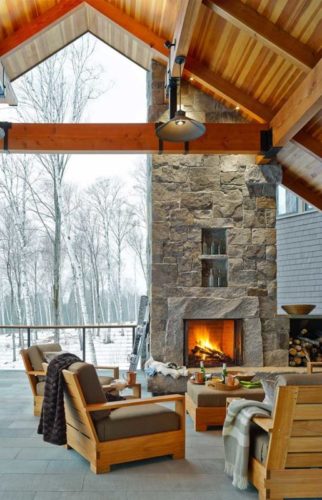 Set in beautiful Stowe, Vermont, this timber frame ski home features a blend of modern rustic. This outdoor timber frame porch is the perfect place to enjoy after a day on the mountain. With its soaring vaulted ceiling, the homeowners added a large stone fireplace where they can enjoy a nice fire with family and guests.
Slopeside Kitchen
This gorgeous timber frame kitchen is part of a slopeside ski home in Southern Vermont. The location is just perfect and the homeowners can access the slopes from their front door. We can see why this photo has been so popular, the white cabinetry coordinates nicely with the exposed Douglas fir timbers.
The Famous Timber Frame Slide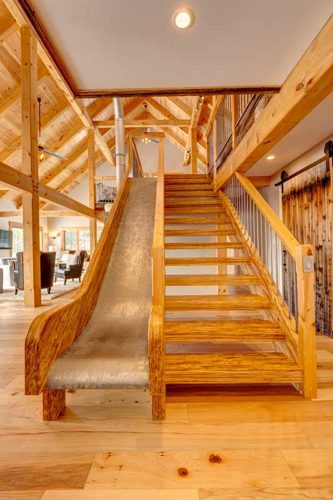 Can you say WOW? Our clients designed and built this beautiful Vermont Barn Home for gatherings and for adventure. The design features 4 levels, with the top two being for the homeowners and the main level and walkout basement being for guests (you can also rent this amazing property). The homeowner had a dream of putting on a slide. I recall joking with him that the kids will love it and he was like, this is for the adults! This photo has gone viral since we photographed the timber frame home, it's definitely unique.
Elegant Timber Frame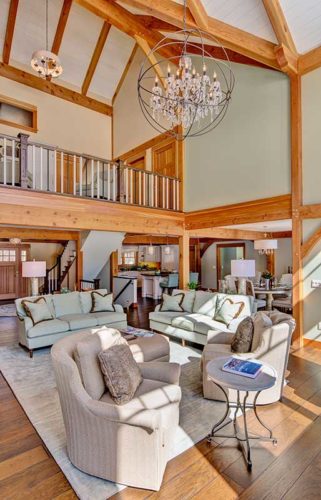 Beautiful and casual elegance comes to mind when I see this photo. This New Hampshire timber frame home was built in the beautiful White Mountains and is used as a ski home in the winter (though, the owners enjoy year round). The great room, dining room, and kitchen all open up to one another allowing for a great entertaining space. There is plenty of space for the whole family and weekend guests!
Lakeside Timber Frame Great Room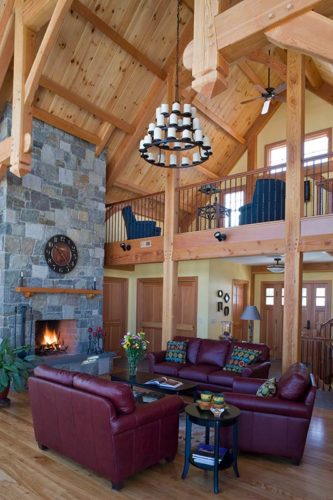 Discover this classic lakeside timber frame home that features a beautiful expansive stone fireplace. The ceiling not only shows beautiful exposed Douglas fir timbers but also incorporates pine tongue and groove enhancing the warmth and ambiance.
Farmhouse bathroom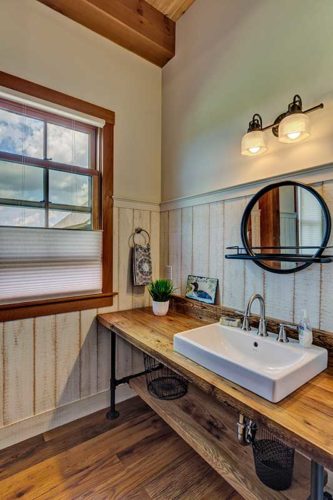 This farmhouse style timber frame guest bathroom is located in a timber frame barn we worked on in New Hampshire. The bathroom features rustic charm and flows nicely with the barn. The timber frame barn this is part of is stunning, be sure to check it out!
Lakeside Master Bedroom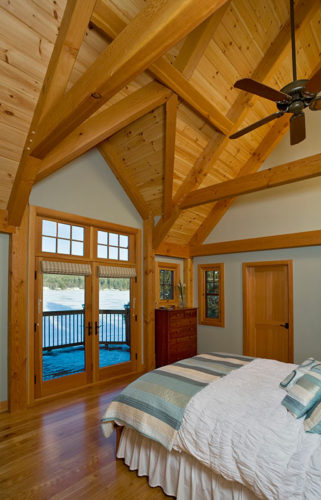 On a lake in New Hampshire, this timber frame master bedroom has it all, a lakeside view and gorgeous cathedral ceiling showcasing the warmth of the beautiful timber frame. This lakeside timber frame home is stunning, don't miss out on seeing more photos on our website.
Oregon Timber Frame Kitchen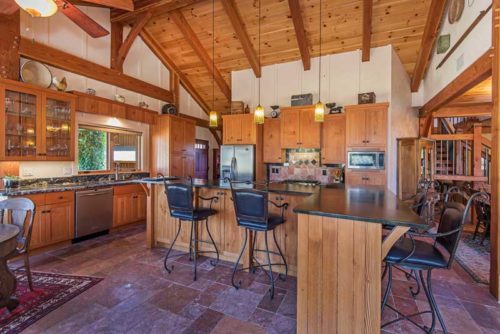 Located in beautiful Sisters, Oregon, this kitchen is part of our West Coast Timber Frame Rep's completely off-grid timber frame home.
Interested in learning more about Davis Frame timber frame homes? Call us today at 800-636-0993!