With Memorial Day coming up, the unofficial start to summer, our minds started wandering and thinking about the best of summer living and travel! Unfortunately, because of the current pandemic, summer travel for many of us is questionable. But some are lucky enough to get the best of summer right in their backyard! At Davis Frame, we have crafted some spectacular lakeside timber frame homes. Many of which are in and around New England, allowing them to dive right into summer. If this is not your current situation, let's dream together about having a house on a lake. If you've spent time on a lake, you know it brings a sense of calm. Time moves a little slower, enabling you to enjoy the sweet moments of summer. We hope that these lovely lakeside timber frame homes will inspire you and give you a sense of virtual calm.
Award Winning Lake Winnipesaukee Timber Frame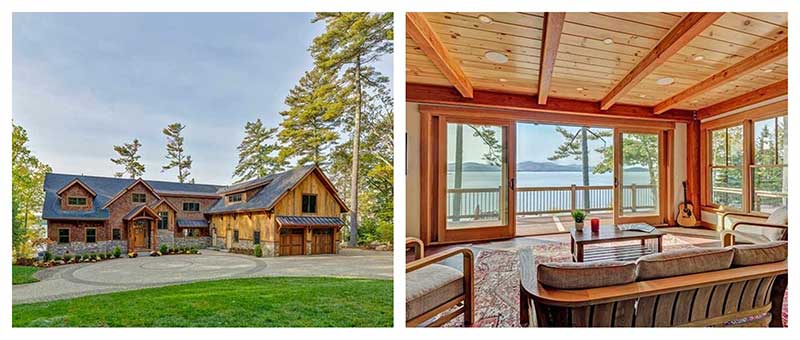 This beautiful Lake Winnipesaukee timber frame home was recently awarded the 2019 Parade of Homes Best in Show award and we can see why! Our customer designed their new custom timber frame home around the impressive lake views, visible from every angle. The primary living area features an open concept floor plan with expansive rooms open to one another. It's the perfect plan for entertaining friends and family. But wait, there's more! There is also a finished walkout basement. It's equipped with additional entertaining space, including a sitting area, game room, and home theater. There is also a pool room with a place to change and shower after spending time in the infinity pool or lake. The outdoor space is just as incredible with a large patio area surrounding the pool and slide. It's a home and a summer vacation all wrapped in one. Visit this Lake Winnipesaukee timber frame home photo gallery to see the rest of the house.
Hybrid Lake Home in Vermont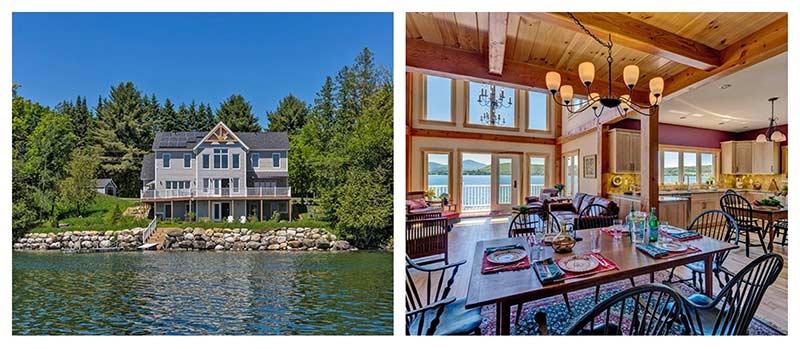 This next lakefront timber frame home is in the Northeast Kingdom of Vermont. It features a hybrid timber frame design with a timber frame center section and conventional panelized wall systems used for the wings. The central timber frame area includes the foyer, dining room, and a lovely great room that looks out to the lake. The master suite is in one conventional wing.  The kitchen, pantry, laundry room, and mudroom are all within the other. Hybrid timber frame homes are becoming more popular these days. It allows for unique wood touches in the main living areas while saving money with conventional construction in other areas. Want to see more photos? Visit our photo gallery of showcasing this hybrid timber frame home!
Hybrid Lake Winnipesaukee Home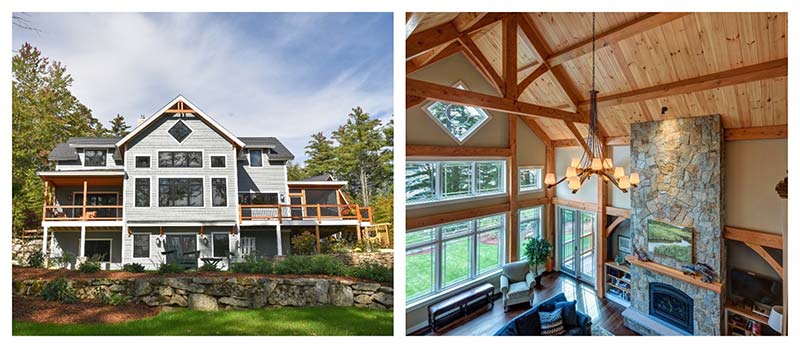 New Hampshire General Contractor Hayward & Company built this beautiful lake house. We supplied Hayward with a structural package that included a center section timber frame with a Structural Insulated Panel (SIPS) roof and our 2x panelized walls and pre-cut engineered lumber roof system. The beauty of our prefabricated products is faster framing on-site, allowing the home to only be exposed to the weather elements for a short period. Along with quicker framing time, our structural components come with minimal waste, drastically reducing on-site construction waste.
The hybrid timber frame home design features a center core timber frame that is seen upon entering the home and leads to a timber frame great room. The great room flows into the dining room and kitchen to the left. The homeowners then chose to extend the pine tongue and groove decking throughout to better tie into the timber frame part of the house. Tongue and groove ceilings, and sometimes walls, are actually quite common in lakeside homes, lending a more rustic feel to otherwise contemporary homes. Check out more of these lakeside home photos. 
New Hampshire Lakeside Home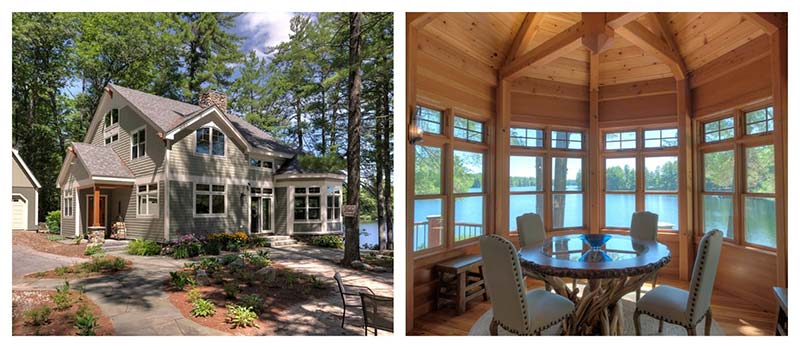 Known as the Pleasant Pine, our clients constructed this New England craftsman-style lakeside home using our prefab wall and roof system for fast and efficient construction. The first floor features an open concept living space with the kitchen, dining room, and living room open to one another. The homeowners also added a timber frame octagon sunroom to take advantage of the beautiful views of the lake. The master suite is located on the first floor while the upstairs features three bedrooms and a shared bath for guests. There is something especially charming about this prefab lakeside home – see for yourself.
Lake Sunapee Timber Frame Home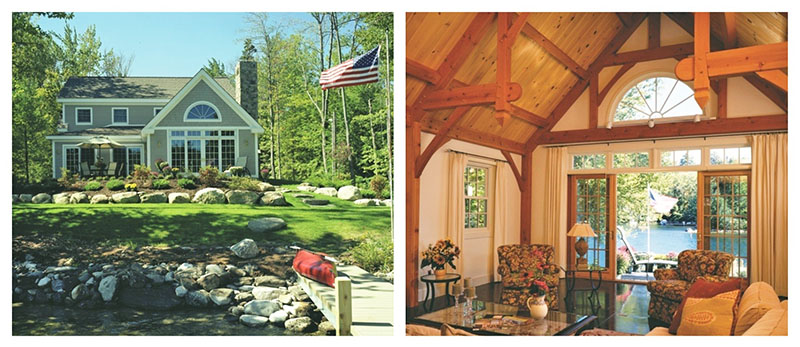 This beautiful timber frame lake home on Lake Sunapee in New Hampshire has a timeless look. The main portion of the home is 2,700 SF and the attached garage includes an additional 700 SF of bonus space above. The first floor features an open concept great room, dining room, and kitchen with gorgeous vaulted ceilings. The guest suite and laundry are also located on the first floor.  The second floor houses the master suite, two additional bedrooms, and a shared bathroom. This timber frame home is perfect for entertaining family and friends for a long weekend!
Adirondack Timber Frame Home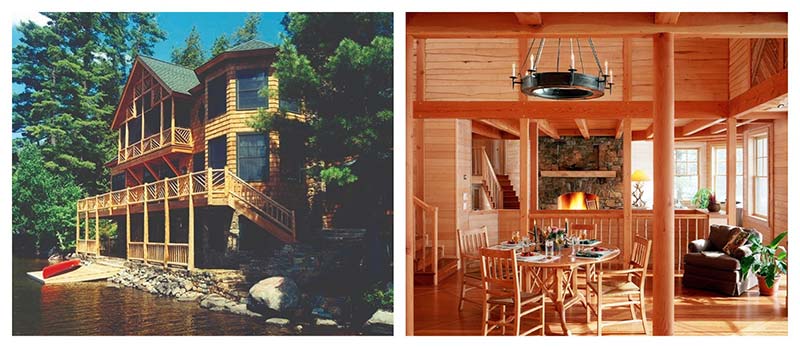 Nothing says lakeside living more than a traditional Adirondack style timber frame home. This classic beauty was designed and built to honor the traditional Adirondack architectural style. It easily blends with the other "camps" on the lake. Appearing as a 1-story home from the driveway, one enters a foyer, off of which is the master suite. To the left and a guest suite to the right. A sleeping porch connects the two suites in the back and shelters the lower level from the summer sun. Directly across from the front door a stairwell goes down into the open-plan dining, kitchen, and living room. The octagon section of the home connects to the original house that the client's kept for their bedroom wing. See more photos of this beautiful Adirondack style home!
We hope you enjoyed reading about lakeside timber frame living! If you would like to learn more about Davis Frame and our products and services, call us at 800.636.0993!